This page contains multimedia resources including: webcasts, games and activities from Education and Workforce Development in the Office of Energy Efficiency and Renewable Energy.
Webcasts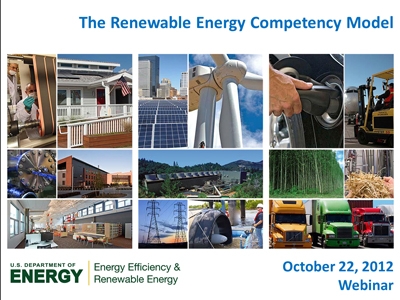 Webcast of the Renewable Energy Competency Model: An Aid to Build a Renewable Energy Skilled Workforce
Date: 10/22/2012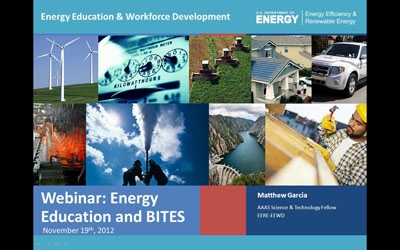 Webcast on Energy Education and BITES: A potential online learning tool for energy education in colleges and universities
Date: 11/19/2012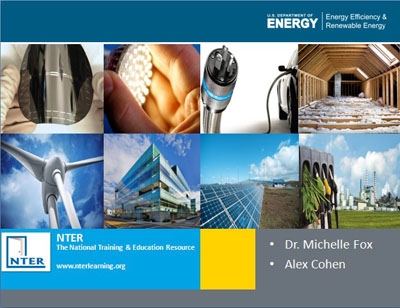 Webcast of the National Training and Education Resource (NTER)
Date: 12/06/2012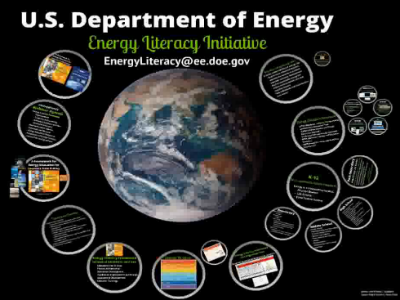 An Energy Literate Citizenry from K-to-Gray:A Webcast on the Department of Energy's Energy Literacy Initiative
Date: 2/06/2013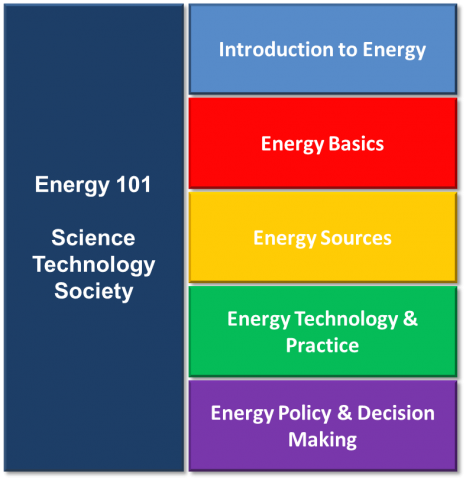 Webcast of the 'Energy 101' Course Framework
Date: 04/10/2013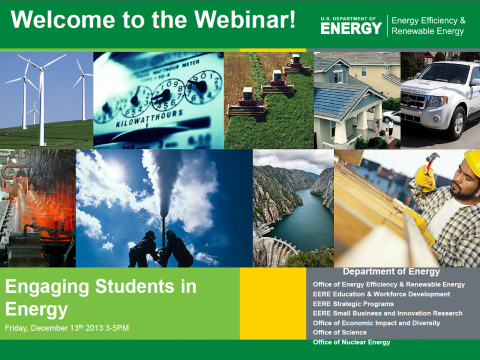 Webcast of Engaging Students in Energy
Date: 12/13/2013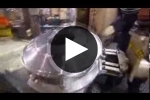 Success Story: Alcoa and ArcelorMittal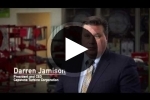 Success Story: Capstone Turbine Corporation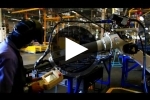 American Energy and Manufacturing Competitiveness Summit Introduction
Games
The Power Gobblin'—a giant blue monster with pulsing antennae and a long blue snout—pounces on homes in a city. After he latches onto them, he sucks the energy out of the homes, causing their energy to flicker. The Energy Elf, a young boy in orange and brown clothing, with large ears and a lightning-bolt shaped haircut, needs your help to save his house from the Power Gobblin'!You must have Adobe Flash to play this game.
Videos
Introduction to Solar Technology

Find fun and introductory learning videos, podcasts and webinars on solar.
Energy Basic Technology Videos

Find fun and introductory learning videos on energy efficiency and renewable energy at Energy 101. These videos provide a quick overview to different technologies and topics, including solar, wind, vehicles, biofuels and much more. Check out these videos through YouTube.
Conversation on Increasing Diversity in STEM Education and the Workforce
The Honorable Dot Harris, Director, Office of Economic Impact and Diverstiy hosts a Google+ Hangout on education and the workforce to discuss what can be done about increasing diversity in Science, Technology, Engineering and Math (STEM) education. She spoke with Dr. Mae Jemison, physicist, engineer and the first woman of color in space; Dr. Karina Edmonds, aeronautical engineer and Technology Transfer Coordinator at the Energy Department; and Bryan Carter, student at the Icahn School of Medicine at Mount Sinai and alumnus of our National Science Bowl competition.
The transcript is available with the video here.