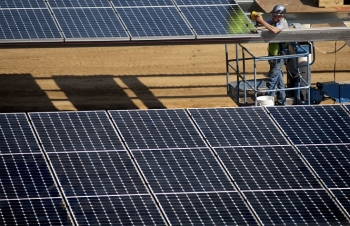 The Solar Energy Technologies Office, through the national effort of the SunShot Initiative funds research and development, striving to make solar energy technologies fully cost-competitive with traditional energy sources by 2020. Through SunShot, DOE supports efforts by private companies, universities, and national laboratories to drive down the cost of solar electricity to $0.06 per kilowatt-hour (kWh). Since SunShot's inception, the average price per kWh of a utility-scale PV project has dropped from about $0.21 to $0.14. SunShot is well on its way to achieving its $0.06/kWh goal by 2020.
WHAT'S DRIVING JOB CREATION?
Policy: There has been a national initiative to double renewable energy resources in three years. Sixteen states and the District of Columbia have renewable portfolio standards with solar energy requirements or bonuses (DSIRE 2012). Twenty-four states and the District of Columbia have direct cash incentives for solar projects and 22 offer tax credits (DSIRE 2012). There is also a Federal investment tax credit (ITC) of 30% for solar residential and commercial systems through 2016.
Falling Costs: Residential and commercial installed costs of solar systems fell roughly 15% in 2012 (SEIA 2013). As costs continue to fall solar will become more prominent in the country's energy mix.
WHERE CAN I FIND CLASSES OR TRAINING?
At present, each state has different licensing requirements for jobs in the solar sector. These requirements are typically listed under a General Contractor License or Electrical Contractor License. The following are resources for exploring solar training:
The following are free online training courses that are available through the National Training and Education Resource Platform (NTER).
PV On-Line Training – A free, online course of instruction that trains building inspectors and code officials, solar installers, electricians, architects and others in code-compliant residential solar installation practices. Using video and photographs to illustrate the correct techniques, PVOT teaches participants how to perform safe solar installations. The seven-module online course provides in-depth training in a variety of subjects -- including electrical requirements and expedited permitting processes. Inspectors may receive CEUs from the International Association of Electrical Inspectors (IAEI) upon successful completion of PVOT.
Solar Technical Assistance for Policymakers – These six modules were developed from webcasts presented in 2012 to provide state and local policymakers with the best information on policies, regulations, solar technologies and resources, and the financing mechanisms necessary to support increased adoption of Solar PV and reduce the cost of solar energy systems.
Introduction to Solar Technology: American Indian Research Education Initiative – The American Indian Research Education Initiative portal is a U.S. Department of Energy Office of Economic Impact and Diversity funded project. It aims to bring science, technology, engineering and mathematics research and educational resources to our nation's 37 Tribal colleges and universities as well as other U.S. universities around the country.
The following are educational free online videos related to solar technology.
The following are free, downloadable K-12 lesson plans related to solar technology and energy.
Use the interactive Solar Career Map to learn more about jobs in the solar industry.
Economic/Workforce Need
There are 119,000 solar workers in the US, up 13.2% from 2011 and the industry expects to increase employment 17% this year (Solar Foundation 2013).
For the past three years, solar jobs have increased at a faster rate than jobs the general economy and most specific sectors (Solar Foundation 2013). Nearly 14,000 new jobs were created in 2012 (Solar Foundation 2013). Forty-five percent of solar firms anticipate adding jobs in the next year (Solar Foundation 2013).
Future Outlook
If DOE's SunShot goals are met the solar industry could support 290,000 new solar jobs by 2030 (SunShot 2012).
Renewable energy is expected to be the second largest source of electricity (behind coal) by 2016 (International Energy Agency 2012).
Module prices fell from between 6-14% in 2012 (depending on the size of the system) – the third year in a row that module prices have fallen significantly in the US (Barbose et al. 2013).
References
Barbose,G. Darghouth, N., Weaver, S., and Wiser, R. (2013). Tracking the Sun VI: An Historical Summary of the Installed Price of Photovoltaics in the United States from 1998 to 2012. LBL. Berkeley, CA: Lawrence Berkley Laboratory. Accessed October 9, 20: http://emp.lbl.gov/sites/all/files/lbnl-6350e.pdf.
National Solar Jobs Census. (2012). The Solar Foundation. Accessed October 9, 2013:http://thesolarfoundation.org/sites/thesolarfoundation.org/files/TSF%20S....
Renewable Energy Midterm Market Report. (2012). International Energy Agency. Accessed October 9, 2013: http://www.iea.org/Textbase/npsum/MTrenew2013SUM.pdf.
Solar Market Insight. (2013). Solar Energy Industries Association. Accessed October 9, 2013: http://www.seia.org/research-resources/us-solar-market-insight-q1-2013.
Solar Policy Guide. (2012) DSIRE: Database of Energy Efficiency, Renewable Energy Solar Incentives, Rebates, Programs, Policy. North Carolina State University; National Renewable Energy Laboratory. Accessed October 9, 2013: http://www.dsireusa.org/solar/solarpolicyguide.
Sunshot Vision Study. (2012). Washington, DC: US Department of Energy. Accessed October 9, 2013: http://www1.eere.energy.gov/solar/sunshot/vision_study.html