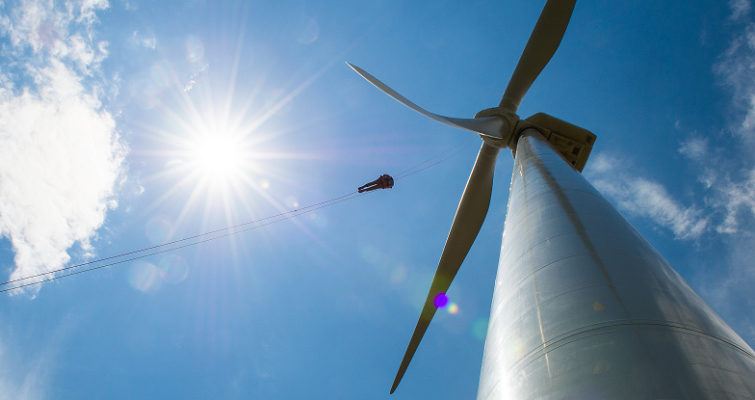 The best-kept funding secret for cleantech small businesses?
Could your firm use $2.1 - 2.7 million? Apply by December 15, 2014!
More
The federal government supports research at thousands of small innovative businesses through the Small Business Innovation Research (SBIR) program. SBIR (with sister program on Small Business Technology Transfer (STTR)) is a competitive program that links government agencies' needs and missions with funding for the development and commercialization of new ideas and innovative research by diverse small business.
DOE-SBIR provides funding to small businesses using a funding ladder similar to that of cleantech investors with $150,000-$225,000 at Phase I; $1 million-1.5 million at Phase II; a potential additional $1 million for sequential Phase II and Phase III (not-set-aside funded) at up to $4.5 million.
"America's business success has occurred because we have so many people with specialized knowledge who are willing to put their money, time and resources on the line for ideas."
— Robert Schiller, NY Times
If you are applying for the first time, or last applied pre-2013, check out the new application tool.
Eligible small businesses must begin the application process for DOE's SBIR grant by submitting a Letter of Intent. (LOI). Only then may they apply for a Phase I grant. Only Phase I grantees may apply for a Phase II grant.
Please note application deadlines and other dates to remember:
Topic release: October 27, 2014
Funding Opportunity Announcement: November 24, 2014
FOA Webinar: December 2, 2014
EERE Cleantech Webinar: December 8, 2014
Mandatory Letter of Intent deadline: December 15, 2014
Application (requires LOI) deadline: February 3, 2015
History of SBIR/STTR
The SBIR program was established under the Small Business Innovation Development Act of 1982. Since1983, the 11 agencies participating in the SBIR program have awarded more than $26 billion in critical R&D funding to thousands of small businesses.  In 1992, the Small Business Technology Transfer Program (STTR) was authorized. The STTR program, modeled on the SBIR program (which is funded by a 2.8% set aside), requires that five agencies with extramural R&D budgets exceeding $1 billion set aside about 0.40% if their extramural R&D budget for small businesses working in cooperation with research institutions such as federal laboratories, non-profit scientific and educational institutions. The most recent reauthorization of the programs was in SBIR/STTR Reauthorization Act of 2011 (the Reauthorization Act). This authorizing legislation was included in the National Defense Authorization Act for Fiscal Year 2012, Public Law 112-81, 125-Stat. 1298, Section 5001, Division E.
One major mission of the SBIR program is to foster the participation of underserved populations in science and technology. Within the Office of Energy Efficiency and Renewable Energy (EERE), a new effort is being made to support the participation of woman- and minority-owned businesses' in clean energy technology (cleantech) so they can grow their small businesses and take their technology to the next level.
Phases of SBIR and STTR
The Phases of SBIR research funding—including the requirements for the length and size of the grants (for I and II)—have been specified in the authorizing legislation. See also Definitions.
Phase 0 (Optional Training/Tech Assistance): Provides technical assistance for small businesses from underrepresented categories.
Phase I (Proof of Concept): Explores the feasibility of innovative concepts with awards of up to $225,000 (depending on the topic) over nine months. Please refer to the Release 2 Column topic descriptions in the open funding opportunity announcement (FOA) to determine the maximum award size for each topic. Only small businesses that have been awarded for Phase I may compete for Phase II funding.
Phase II (Full Research and Development): The main R&D effort, with awards of up to $1,500,000 over two years. Now called "initial Phase II" to distinguish it from sequential.
Phase II sequential awards are for an additional round of Phase II (two-year, $1 million) as authorized by the 2011 SBIR Reauthorization Law. There are two types of such sequential grants, Phase IIA and Phase IIB. The IIA grants continue the current research, whereas IIB grants aid in and continue R&D scale up. In the first cleantech sequential FOA in FY 2014, II Phase II awardees that had completed cycle 30 and 31 could apply for an additional Phase II sequential grant.
Phase III : Offers small businesses the opportunity to continue Phase I and II work to pursue commercial applications of R&D. Federal agencies make follow-on awards, including sole-source grants or contracts, for mission-related products or processes, or for further R&D. However, the SBIR program does not fund Phase III.
Fast-Track is a combined Phase I and Phase II award that is offered for some EERE topics.
Topics
EERE Topics are strongly correlated with the EERE tech offices. Thus, each topic description points the reader to important items on the tech office Web page. The following information—which may be different for each topic—is found in the beginning of every single topic description:
Maximum Award Size (regular/high) for Phase I and Phase II ($150k/225k and $1M/1.5M)
Fast Track (not allowed, optional or mandatory)
Within EERE's topics, there are two types of subtopics. Traditional EERE SBIR subtopics ask small businesses to help solve technical problems related to achieving a programmatic R&D goal for that EERE tech office.  EERE designated this type of topic as a Problem-Solving Opportunity (PSO) to distinguish it from DOE-SBIR's Technology Transfer Opportunity (TTO). The TTO subtopic type begins with the objective of commercializing intellectual property from DOE-funded national laboratories and research universities.  For budget forecasting purposes, traditional (PSO) EERE subtopics are written assuming an average of two awards per subtopic. But there is only one award is allowed per TTO subtopic. 
Beyond Application
If you already have a Phase I SBIR grant, find out your options.
If you are finishing your Phase II SBIR grant and wondering what to do next, find out your options.
News/Announcements
The EERE Small Business Innovation Research (SBIR) team has assembled nine Topics and 26 subtopics.
The EERE Small Business Innovation Research (SBIR) team helps streamline the SBIR application process with this interactive tool.
The EERE Small Business Innovation Research (SBIR) team has recommended that 14 Phase II proposals be awarded.  Although most of the awards are from EERE's part of the Release 2 Solicitation, two are from the Broad Based Solicitation (Release 3) and one is EERE's first "sequential" (four-year) Phase II award.  Women-owned and socially and economically disadvantaged firms continue to be strongly represented among the selectees.
The EERE Small Business Innovation Research (SBIR) team has recommended that 40 Phase I proposals from EERE's part of the Phase I Release 2 Solicitation be awarded. These 40 awards would represent a diverse group with 11% from underrepresented states, 10% from socially and economically disadvantaged small businesses, and 8% from woman-owned business. This group also includes the first ever "Technology Topic Opportunity" award where the topic is based on DOE laboratory intellectual property rather than on a program goal. As such it is a true Technology to Market award.
The EERE Small Business Innovation Research (SBIR) team has recommended that 17 Phase II proposals from EERE's Broad Based Solicitation be awarded. These 17 awards represent the best of the nearly 1,000 ideas submitted for the FY 2012/13 Broad Based Topic Solicitation. That solicitation (also known as "Release 3") was an experiment begun by EERE Acting Assistant Secretary Henry Kelly in 2012 after his six-city nationwide small business "listening tour." The intent of the Broad Based Topic solicitation was to ask for a broad—almost wide open—set of solutions to the most challenging problems faced by the EERE Tech Offices.