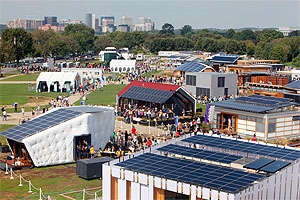 The U.S. Department of Energy Solar Decathlon is an award-winning program that challenges 20 collegiate teams to design, build, and operate solar-powered houses that are cost-effective, energy-efficient, and attractive. In addition to showcasing the cost savings and environmental benefits of market-ready solar technologies, the event encourages participating students to think in new ways about incorporating practical, affordable clean-energy solutions into residential applications.
The 2013 event took place on October 3–13, 2013, at Orange County Great Park in Irvine, California. The next Solar Decathlon will take place in Fall 2015.
The Solar Decathlon enables visitors to tour the houses, gather ideas to use in their own homes, and learn how energy-saving features can help them save money.
The teams spend almost two years creating houses powered exclusively by the sun. They design, build, and test their houses before transporting them to the host site. When the competition begins, the student decathletes must rebuild their houses within a week and put them through a series of 10 contests designed to identify the winning combination of aesthetics and performance.
The Solar Decathlon is a two-year educational program that culminates with the competition and the announcement of an overall winner. But in the end, the satisfaction of developing and demonstrating innovative and affordable clean-energy housing solutions that could influence the way millions of people live in the future makes every decathlete a winner.
Promoting Building Technologies Research and Adoption
The Solar Decathlon has many goals, including:
Demonstrating to the public the cost-saving opportunities provided by grid-connected homes that leverage readily available clean-energy technologies to produce as much energy as they consume.
Educating collegiate students about the benefits of energy efficiency, renewable energy, and clean-energy building technologies. As the next generation of engineers and builders, the decathletes will be able to apply this knowledge in their studies and future careers in our nation's clean-energy workforce.
Encouraging widespread adoption and use of energy-saving technologies by demonstrating their use, availability, and practicality to a wide variety of visitors to the public event and to the Solar Decathlon website.
Representing a diverse range of design approaches that address challenges unique to various climates and regions and meet the needs of a variety of target housing markets.
Promoting an integrated or "whole building design" approach to new construction. This approach differs from the traditional design and construction process because the design team considers the interactions of all building components and systems to create a more comfortable building that saves energy and reduces environmental impact.
Learn More
Find out more about the Solar Decathlon.