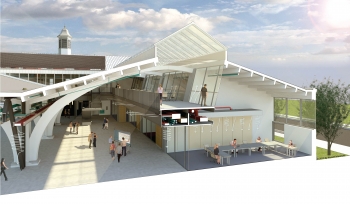 The Center for Building Energy Science & Engineering — a renovated historic building (formerly "Building 661") at the Navy Yard, based in Philadelphia — will serve as a best practices model for commercial building design, historic adaptive re-use, and energy efficiency innovation through continuous retrofit.
The Penn State Consortium for Building Energy Innovation (formerly the Energy Efficient Buildings Hub) is working to address the unique and complex challenges of building energy efficiency and to accelerate the Consortium's national impact in the building retrofit market. The Consortium has refined its focus to develop, demonstrate, and deploy energy-saving technologies and solutions that can achieve 50% energy reduction in small- and medium-sized buildings. Its facility at The Navy Yard in Philadelphia serves as a local test bed for real-world integration of technology and market solutions.
The Penn State Consortium collaborates with other research institutions, nonprofits, and market partners across the United States to bring its regionally focused activities to a national audience with the goal of replicating best practices and lessons learned at a local level.
Learn more about the Penn State Consortium for Building Energy Innovation.