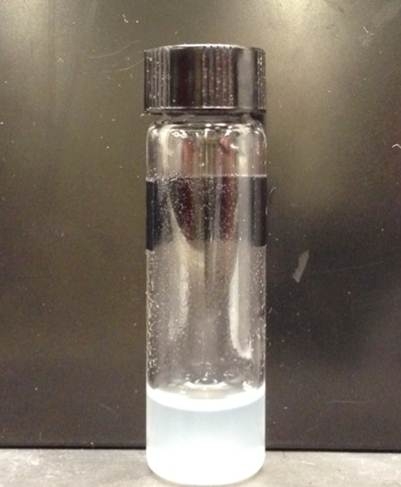 Image of vacuum capsules in water (4 mg/ml) used for dip coating.

Image of vacuum capsules deposited using dip coating, demonstrating virtually no visual degradation.
Lead Performer: National Renewable Energy Laboratory - Golden, CO
DOE Funding: $750,000
Project Term: 10/1/2013 - 9/30/2014
Funding Opportunity Announcement: Building Technologies Innovations Program 2013 (DE-FOA-0000823)
Project Objective
This project is developing vacuum insulation for window applications using novel evacuated materials—so small that they are invisible—integrated with low-e-coated plastic films. The materials will have better insulation values than vacuum-insulated glass and have the correct form factor for easy integration with installed windows. The target is to achieve an R-20 film that can be applied to existing windows. With the life expectancy of installed windows being greater than 30 years, decades and tens of trillions of dollars would be required before they are replaced with highly insulating windows. If successful, this insulating film is an alternative to replacing windows as the existing windows would become more insulating than most advanced replacement windows readily available on the market today.
Project Impact
NREL estimates this technology could save 2-3 quads of energy annually.
Contacts
DOE Technology Manager: Karma Sawyer
Performer: Lin Simpson, National Renewable Energy Laboratory
Learn more