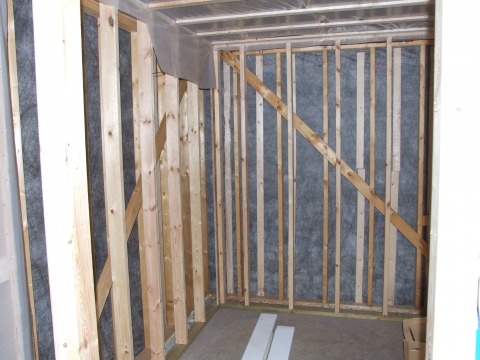 High-performance homes require walls that cost-effectively control both thermal and moisture flow. This Top Innovation profile describes Building America research from Consortium for Advanced Residential Buildings and Building Science Corporation on high-R-value walls showing the difference between rated and whole wall R values and the need for vented cladding to reduce condensation potential with some insulation types. Research on common high-R wall assemblies has shown that the measured R-value is almost always lower than the rated whole-wall R-value and that the potential for condensation occurs 15% – 95% of the time with several common high-R wall types.
Building America's teams have conducted modeling analysis as well as field studies of several different wall assemblies to identify effective "whole wall" R-values that take into account thermal bridging of framing members. Researchers have also investigated critical moisture potential and durability issues since high-R walls have much less drying potential. Read about this Top Innovation.
See an example of this Top Innovation in action. Find more case studies of Building America projects across the country that demonstrate high-R walls.
View other Top Innovations in the Advanced Technologies and Practices category.