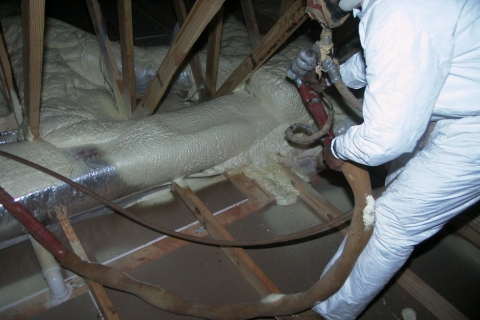 Ductwork installed in unconditioned attics can significantly increase the heating and cooling costs of homes, resulting in thermal losses of 10%–45% of total space conditioning energy use.
To address this problem, Building America researchers from the Consortium for Advanced Residential Buildings team developed an insulating method suitable for both new and existing homes that won a 2013 Top Innovation award. The buried and encapsulated ducts (BED) strategy consists of burying ducts in loose fill insulation and/or encapsulating them in closed cell polyurethane spray foam insulation. As a result of this research, BEDs have been incorporated into several energy conservation codes and standards. Learn more about this Top Innovation.
See an example of this Top Innovation in action. Find more case studies of Building America projects across the country that demonstrate buried and encapsulated ducts.
View other Top Innovations in the Advanced Technologies and Practices category.