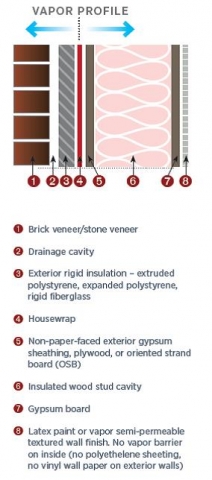 Air-tight and well-insulated homes have little or no tolerance for drying if they get wet; moisture control is critical. This Top Innovation profile describes Building America research that established vapor retarder classifications and appropriate applications that has been instrumental in the market transformation to high-performance homes. 
The vapor retarder classification developed by Building America research has been effectively integrated into the national model energy code and now impacts 100,000 new homes constructed each year so they more effectively control moisture flow and provide more durable homes. Read about the Top Innovation.
See an example of vapor retarder best practices in action. Find other case studies of Building America projects across the country that utilizes vapor retarder best practices.
View other Top Innovations in the Infrastructure Development category.