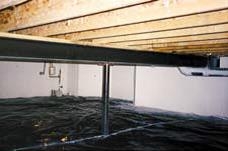 This Top Innovation profile describes Building America research by Building Science Corporation that helped to clarify and contribute to code requirements that allow unvented crawlspaces in new home construction. This is critical because unvented crawlspaces save energy while improving comfort, health, and durability in most climate zones.
Building America contributions to getting unvented crawlspaces adopted in the model energy code has helped influence thousands of new homes to be constructed with crawlspaces. As a result, builders are sealing and insulating crawlspaces with up to 20% in heating and cooling energy savings while substantially reducing the risk of moisture problems. Read about the Top Innovation.
See an example of a conditioned crawlspace in the mixed-humid climate zone. Find case studies of Building America projects across the country that are implementing unvented, conditioned crawlspaces.
View other Top Innovations in the Infrastructure Development category.