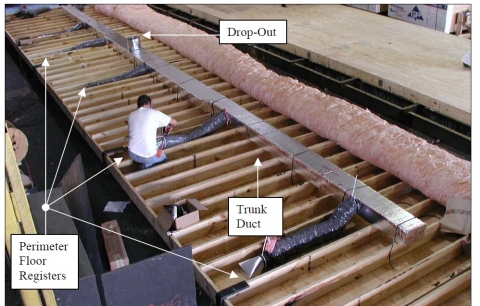 This Top Innovation profile describes research by Building America Partnership for Improved Residential Construction team to diagnose the cause of moisture problems in manufactured housing in Florida and prescribe measures to mitigate the problem; in all, the researchers worked with 24 manufactured home factories between 1996 and 2003. The recommended measures included mastic sealing ducts, installing properly sized high-efficiency HVAC, thoroughly air sealing the building envelope, using water-resistant exterior finishes, and implementing positive pressure ventilation to keep out humid air.
In addition, the researchers provided follow-up technical assistance to the manufacturers to see that recommendations were implemented properly. One manufacturer reported zero moisture-related issues in 35,000 homes built after implementing Building America recommendations. Read about the Top Innovation.
See another example of technology solutions for manufactured homes. Find more case studies of Building America projects across the country that demonstrate high performance manufactured homes.
View other Top Innovations in the House-as-a-System Business Case category.