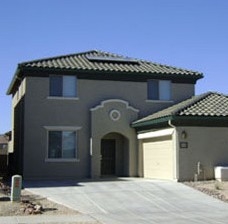 Many builders remain resistant to adopting high-performance innovations based on misconceptions about high cost and design challenges. Thus, Building America projects such as Pulte Homes' Civano project in Tucson, Arizona, have an extraordinary impact, demonstrating the business case for adopting proven energy-efficiency measures along with solar energy systems for an entire community.
Pulte Homes of Tucson worked with Building America teams IBACOS and Building Science Corporation to apply a suite of energy-efficiency measures integrated with passive solar design and solar water heating that reduced energy use more than 50% for a community of more than 1,000 homes. Solar has grown to become a prominent energy strategy for Pulte Homes in other divisions across the United States. Read about this Top Innovation.
See more case studies of Building America projects across the country that are implementing high performance homes on a community scale.
View other Top Innovations in the House-as-a-System Business Case category.