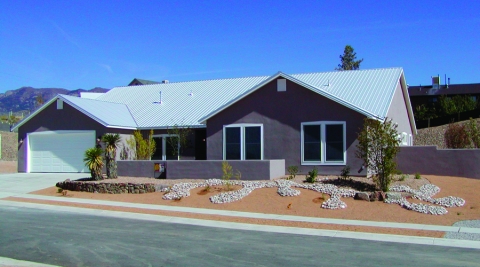 Many builders remain resistant to adopting high-performance innovations based on misconceptions about high cost and design challenges. Thus, Building America builder partners such as Artistic Homes have had an extraordinary impact, demonstrating the mainstream builder's business case for adopting proven innovations such as efficient thermal enclosures and ducts inside the conditioned space, even in entry-level homes.
This Top Innovation profile describes how Artistic Homes (now Palo Duro Homes), a successful production builder of 500 to 800 homes per year, can take its product from code minimum to a HERS under 50 standard on all homes, with optional PV upgrades to HERS 35 or true net zero on every home plan offered. Building Science Corporation provided design and technical assistance to Artistic Homes.Read about this Top Innovation.
Find more case studies of Building America projects across the country that demonstrate how high performance homes can be affordable for the mainstream market.
View other Top Innovations in the House-as-a-System Business Case category.