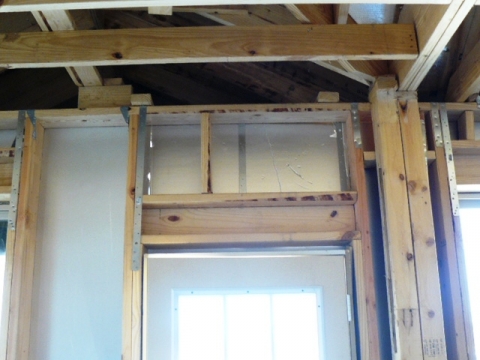 Building America field studies involving thousands of homes have documented significant material, labor, and energy savings when production builders implement advanced framing techniques. Advanced framing can reduce the number of studs in the walls by up to one-third, reducing the cost of materials. and reducing the cost of labor in terms of the time it takes to handle, cut, install, drill, and attach to studs. Actual savings have exceeded $1,000 per home; studies show the resulting improvement in thermal performance can yield 13% energy savings.
For this Top Innovation, Building America researchers at Building Science Corporation developed best practices for advanced framing and effectively demonstrated their compelling cost and energy savings. This innovation is now being applied by home builders across the nation. Read about this Top Innovation.
See an example of this Top Innovation in action. See case studies of Building America projects across the country that demonstrate advanced framing systems and packages.
View other Top Innovations in the Advanced Technologies and Practices category.