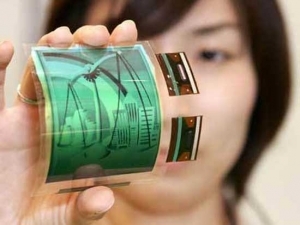 Colnatec manufactures advanced film thickness monitoring tools and provides process engineering services for organic light emitting diodes, thin film solar, and semiconductor manufacturing. | Photo courtesy of Colnatec
Throughout history, scientific breakthroughs and discoveries by women have made an incredible impact, advancing technology and improving our planet.  Women chemists, biologists and astronomers have overcome extraordinary obstacles to contribute to the growth of American science and society.
For example, two-time Nobel Prize winner Marie Curie was often dismissed as her husband's helper even though she established the theory of radioactivity and discovered polonium and radium.  Rosalind Franklin, a biophysicist whose research led to the discovery of DNA's double helix structure, was not recognized for her work by the Nobel Committee until after her death in the 1950s.   
As the glass ceiling in the scientific world continues to be shattered, women are increasingly playing a major role in developing technologies that are moving our nation's clean energy economy forward.  The Energy Department's Office of Energy Efficiency and Renewable Energy (EERE) supports the more entrepreneurial of these trailblazing women scientists through the Small Business Innovation Research (SBIR) program.  SBIR links the needs and missions of federal agencies with funding for the development and commercialization of new ideas and innovative research by diverse small businesses. The Energy Department recently awarded $17 million in SBIR projects to small businesses in 13 states for the development of prototype technologies that could improve energy efficiency, reduce the cost of installing clean energy projects, and generate electricity from renewable energy sources. One of the award winners was Composite Technology Development, Inc. of Lafayette, Colorado; a woman-owned small business that plans to optimize the cost and performance of composite cylinders for hydrogen storage with a graded construction.
A previous SBIR awardee is making a big impact in several clean energy industries with new thin-film technology. Arizona-based Colantec, founded by Wendy Jameson and Scott Grimshaw, manufactures advanced film thickness monitoring tools. This small business also provides process engineering services for organic light emitting diodes, thin film solar, and semiconductor manufacturing. Colnatec is the only company in the world creating high-temperature and temperature-controlled sensor systems for the extreme conditions required for manufacturing technologies such as thin film solar cells and cutting edge electronics. Through the SBIR program, Colantec was able to fund critical engineering services, prototype work, materials, and laboratory testing necessary for developing their closed-loop film thickness monitoring system. The system has been sold to manufacturers and research institutions throughout the world.
Colantec and other woman-owned SBIR awardees are transforming clean energy technologies through innovation and are making our world a more sustainable place for future generations. Learn more about the SBIR program and EERE's SBIR Small Business Diversity Initiative. Find out how to apply!