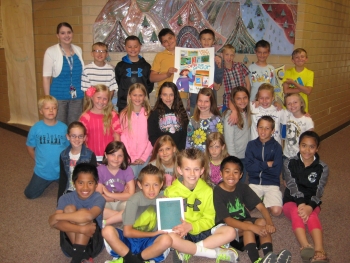 Students in the Nebo School District pose with the winning posters from a competition held by the Utah State Energy Program. |Photo courtesy of the National Energy Foundation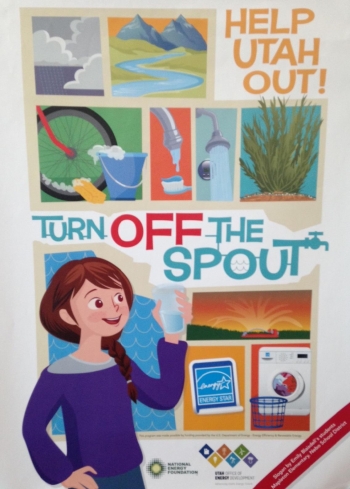 The winning poster from Utah's Water Energy in Action slogan competition. | Photo by Julie Howe, Energy Department
Like many Western states, Utah is experiencing high demand for water resources as the state's population grows and droughts become more frequent and severe. Consequently, there's more need for water distribution, which requires additional energy to extract, pump, and deliver drinking water, along with treating waste water.
Utah is working to ensure the resiliency of its future water and energy systems with funding from the Energy Department's State Energy Program. In fact, the state developed its own Water Energy in Action educational program –in conjunction with the National Energy Foundation – to educate K-12 students and teachers about the many uses of water.  The program has provided water learning workshops across the state to more than 100 teachers and 3,500 4th-12th grade students.
Curricula topic areas include the history of water, the water cycle, vitality of water, water treatment, water efficiency, water quality, and the water and energy nexus.  These workshops are also connected to the Utah Core Standards, Next Generation Science Standards, and Science Technology Engineering and Math (STEM).
As part of the Water Energy in Action education program, Utah held a competition, encouraging students to create the best "water-saving" slogan to be printed on a poster that was distributed to 1,000 teachers across the state.  The winners were students in Miss Emily Blaisdell's 4th-grade class in the Nebo School District with their slogan, "Help Utah Out, Turn off the Spout."
The State Energy Program provides funding and technical assistance to state and territory energy offices to help meet national energy goals. To find SEP success stories across the U.S., access additional information on SEP's guidance and benefits, or find a local state energy office contact, visit the SEP website.
The Weatherization and Intergovernmental Programs Office works with state, local, tribal, and K-12 school district leaders to accelerate the adoption of energy efficiency and renewable energy technologies and best practices. These partnerships will help American communities, businesses, and industries overcome barriers and establish a viable clean energy economy.