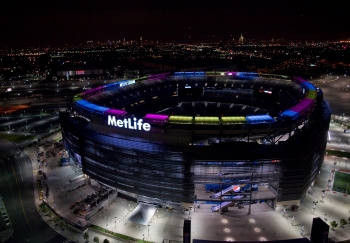 MetLife Stadium, the site of yesterday's Super Bowl, features a ring of 1,350 solar panels that can generate 350,000 kilowatt hours of electricity annually. The number of jobs in the U.S. solar energy industry equates to nearly double the amount of seats in the stadium. Picture courtesy NRG Solar, LLC
2013 was a record-breaking year for the U.S. solar industry. Consider the facts:
There are now an estimated 13 gigawatts of installed solar capacity on the electrical grid, more than 10 times more than just five years ago; that's enough to power 1.7 million households.
A new solar project was installed every four minutes.
Some of America's top companies — including Apple, Costco, and Walmart— are using solar energy to power operations.
After natural gas, solar added the most generating capacity to the grid of all energy sources.
U.S. solar jobs grew 20%.
Solar's staggering growth is even more evident with the release of the Solar Foundation's National Solar Jobs Census 2013. According to the report, solar now employs 142,698 American workers at 18,000 locations in all 50 states, and the industry continues to create jobs at a faster pace than the overall economy. The latest numbers show that solar jobs are growing more than 10 times faster than jobs in other sectors of the nation's overall economy.
But just how much is 142,698 jobs? That figure is nearly double the number of seats in MetLife Stadium, the site of Sunday's Super Bowl.  And it's enough of an economic impact to stand on the same playing field as many other cornerstone American industries. The U.S. steel industry employs 86,122 workers, and the U.S. automobile and light truck manufacturing industry employs 142,177. Solar is a crucial player in the U.S. economy, while also providing American families and business with clean, homegrown energy to power their daily lives.
The Energy Department (DOE) is helping to support this growing industry through workforce training programs like the SunShot Initiative's Solar Instructor Training Network, which supports professional development of trainers and instructors of solar photovoltaic and solar heating and cooling technologies through nine regional centers throughout the country. In addition to ramping up its efforts to increase the number of trained workers in the solar industry, DOE funds accreditation and certification programs for solar workers including trainers, installers, and instructors.
Big gains in electrical capacity and jobs are expected in 2014 as several major concentrating solar power plants come online. Given its recent strides, solar is becoming the next great American industry.