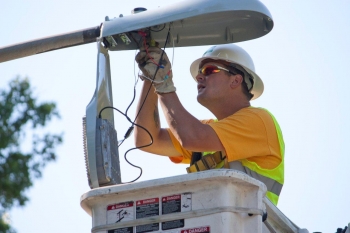 A worker installs energy efficient lights as part of the Smart Lights for Smart Cities program. | Photo courtesy of Mid-America Regional Council.
Dozens of small communities throughout Kansas and Missouri are saving big money and energy as a result of several high-impact lighting projects. Over the past three years, more than 5,700 energy-efficient lights were installed in communities with populations of less than 35,000 people. The new streetlights are expected to save 25 cities and towns a combined $25 million in energy costs and slash carbon emissions by more than 380 million metric tons, equivalent to removing 80 million cars off the road in one year. The upgrades were part of Smart Lights for Smart Cities, an energy efficiency initiative managed by the Mid-America Regional Council, a metropolitan planning organization serving the Kansas City area. The new lights—featuring induction and LED technologies—are brighter, more energy efficient, and easier to maintain than the mercury vapor and high-pressure sodium streetlights they replaced.
Building on support from an Energy Efficiency and Conservation Block Grant (EECBG) via the Recovery Act, Mid-America Regional Council became a charter member of the Energy Department's new Better Buildings High-Performance Outdoor Lighting Accelerator. Better Buildings Accelerators bring together public and private sector leaders and experts to solve some of the nation's toughest energy challenges.
The High-Performance Outdoor Lighting Accelerator works with state and local municipalities nationwide to increase the adoption and use of high efficiency outdoor lighting in the public sector. Key program areas are replacing more than 500,000 outdoor lighting poles and developing best practice approaches to municipal system-wide upgrades.
An increasing number of states and municipalities are turning toward high efficiency outdoor lighting. There was nearly a two-fold increase of LED installed stock in outdoor applications from 2012 to 2013.  New high performance lighting technologies offer approximately 50% energy savings and cost savings with lower operations and maintenance due to a longer lifespan. The cost savings is significant as outdoor lighting costs across the U.S. total approximately $10 billion a year.
Learn more about EECBG and The High-Performance Outdoor Lighting Accelerator.