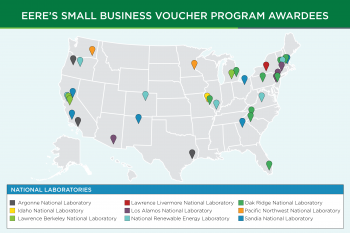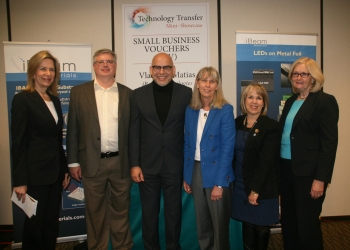 From left: Deputy Secretary of Energy Elizabeth Sherwood-Randall stands with Dan Koleske, from Sandia National Laboratories; Vladimir Matias, from iBeam Materials; Jill Hruby, President and Laboratories Director of Sandia National Laboratories; U.S. Rep. Michelle Lujan Grisham of New Mexico; and Madelyn Creedon, Principal Deputy Administrator of the National Nuclear Security Administration, at a roundtable discussion at the Center for Global Security and Cooperation at Sandia National Laboratories in Albuquerque, New Mexico.
One of my top priorities as the Energy Department's Assistant Secretary for Energy Efficiency and Renewable Energy (EERE) is the National Laboratory Impact Initiative, which focuses on maximizing the impact of our network of national laboratories on the clean energy economy. The economic opportunity for our nation to lead in advancing clean energy is growing rapidly. In fact, a report released just last month by Bloomberg New Energy Finance found that a record $329 billion was invested in clean energy globally in 2015. Recent trends indicate that clean energy markets will grow well beyond $1 trillion annually in the years and decades ahead.
Our national labs provide the United States with a key opportunity for competitive advantage in the global race to develop the clean energy technologies of today and tomorrow. The National Laboratory Impact Initiative will help American businesses leverage this unique competitive opportunity by building a more commercially aware and industrially relevant culture at the labs to help companies move technology to the marketplace faster.
In support of that goal, EERE created the Small Business Vouchers (SBV) pilot program. SBV's call for first-round proposals was announced during EERE Industry Day at Oak Ridge National Laboratory last September. SBV is a collaborative effort between the national labs and EERE, created to give entrepreneurs greater access to the world-class resources and brilliant minds in our labs. These partnerships are designed to help small businesses solve their most pressing technical challenges – and bring clean energy technologies to commercialization much faster.
We find that large companies frequently have the ability to engage and collaborate with the labs on their own; however, small businesses often lack the necessary resources to access our labs. With at least 23 million small businesses in the United States, accounting for 99% of all employers and more than half of all private sector jobs, there is clearly enormous potential in helping small businesses and the national labs to collaborate.
The SBV program is committed to promoting these relationships by addressing the specific hurdles faced by small businesses interested in working with the national labs. SBV's five lead laboratories – Sandia National Laboratories, National Renewable Energy Laboratory, Lawrence Berkeley National Laboratory, Pacific Northwest National Laboratory, and Oak Ridge National Laboratory (ORNL) – undertook a significant outreach effort in the first round of the pilot, connecting with the small business clean energy community via social media, webinars, and in-person events. SBV has created a user-friendly "one-stop-shop" website, which was carefully crafted based on focus group feedback from small businesses. The website is a single point of entry for all SBV applicants and fully outlines more than 60 unique lab capabilities small businesses can access. This resource is invaluable for small businesses interested in the SBV program and a great resource for anybody interested in learning about the capabilities at the Energy Department's national labs.
In this first round of our SBV pilot program, the level of interest shown from small businesses has exceeded our wildest expectations. By the time the application window for SBV's first round closed on October 23, small businesses had submitted more than 400 requests for assistance.
Last week, we announced the 33 small businesses who have been awarded vouchers in the first round of the SBV pilot, representing $6.7 million in total investment by EERE in nine separate technology areas: advanced manufacturing, vehicles, solar, wind, water, geothermal, buildings, bioenergy, and fuel cells.
Ninety-seven percent of the small businesses selected have 50 or fewer employees, with 88% having been in business for 15 or fewer years. They hail from 20 different states, with every region of the country represented. While some of these businesses have previously collaborated with a national laboratory, 36% of the vouchers were awarded to companies that have never worked with a national laboratory. The voucher requests represent various stages of development, from demonstration of lab feasibility to assistance with testing and scale-up of technologies.
All of the selected small businesses are working on incredibly exciting next generation technologies. One example is iBeam Materials, a New Mexico-based spin-out from Los Alamos National Laboratory (LANL) that will be working with Sandia National Laboratories to help them to continue development of a game-changing, low-cost roll-to-roll process for growing LED materials on flexible metal-based foils.
Another example is XG Sciences in Lansing, Michigan, a leader in the field of graphene based materials – an exciting new form of carbon. XG Sciences will be working with Lawrence Berkeley National Laboratory in California to continue the development of high energy graphene-silicon hybrid materials for next generation lithium-ion batteries.
Another innovative selectee, Treadstone Technologies, located in New Jersey, is a leading supplier of low-cost metal coating technology to the electrochemical energy market. They will work with our labs to develop less expensive fuel cell coatings, in order to reduce the total cost of a fuel cell stack. Treadstone is also leveraging the national lab system by completing part of their voucher work at LANL, and another part at ORNL. I'm anxious to hear more from iBeam Materials, Treadstone Technologies, XG Sciences, and all of the 30 other selected small businesses.
Importantly, requests for assistance for the second round of SBV funding are currently being accepted until April 10 – and $13 million of funding for SBV vouchers is still available. For more information about eligibility, research areas, available funds, and the application process, visit www.sbv.org. With so many fantastic companies applying to work with our labs in round one, I can't wait to see what exciting innovation round two will bring.
Learn more about the National Lab Impact Initiative, along with requirements to submit a Request for Assistance (RFA), by visiting the Small Business Vouchers pilot website. The participating labs have set up resources to assist small businesses with questions on how to work with the labs, and to arrange introductions to the laboratories' technical experts in clean energy areas.