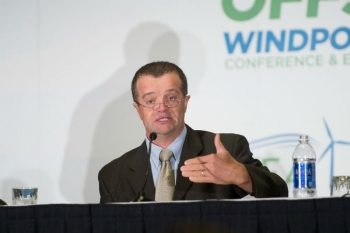 Deputy Assistant Secretary for Renewable Energy Steven Chalk speaks during the American Wind Energy Association WINDPOWER Offshore conference in Providence, Rhode Island. | Photo courtesy of American Wind Energy Association
A year of progress, preparation and promise was the theme connecting two days of panels and presentations last month at the 2013 American Wind Energy Association WINDPOWER Offshore conference in Providence, Rhode Island. The Energy Department (DOE) had a strong presence at the conference, with key partners on DOE-supported projects participating on panels discussing important topics including updates on offshore wind demonstration projects, the readiness of U.S. ports, and availability of vessels for offshore wind projects.
DOE's Deputy Assistant Secretary for Renewable Energy Steven Chalk highlighted the Department's efforts to advance and lower the cost of offshore wind technology including:
DOE's Wind and Water Power Technologies Office Director Jose Zayas co-moderated a panel on seven advanced technology demonstration projects for offshore wind. Each of the seven project teams were awarded $4 million in 2013 to complete the engineering, design and permitting phase for a U.S. offshore wind project. Next year, DOE will select up to three of these projects to complete the follow-on design, fabrication, and deployment phases of their projects, with the goal of deploying what may be some of the nation's first utility-scale offshore wind turbines by 2017. These projects will receive up to $47 million each over four years, subject to Congressional appropriations. 
Representatives from each team discussed challenges their projects are solving, such as operating wind farms on coastlines with extreme weather conditions (including ice on the Great Lakes), working with state agencies to obtain permits and approvals, and developing and using cutting-edge technologies to operate in the variety of conditions off different states' coastlines. In every case, the project teams are sharing lessons learned that will help bring future offshore wind projects online.
During the conference, the Wind and Water Power Technologies Office released several offshore wind reports, including the 2013 Offshore Wind Market and Economic Analysis, highlighting 11 commercial-scale U.S. projects, representing over 3,800 megawatts of capacity, that are reaching an advanced stage of development. DOE also launched several key resources that can help industry develop the nation's significant offshore wind resources, including a new assessment of anticipated demand for vessels and an online U.S. port readiness tool. Additional reports on port readiness (summarized here) and installation, operations, and maintenance best practices for offshore wind development will be published in coming months.
Read the latest edition of the Wind Program Newsletter to learn more about how DOE is advancing offshore wind energy or subscribe to the newsletter to receive updates on many of DOE's offshore wind R&D projects and links to recent publications and funding opportunities. Visit the Wind Program's updated Offshore Wind Research & Development section, which offers results and reports from its portfolio of technology development, market acceleration, and demonstration projects.