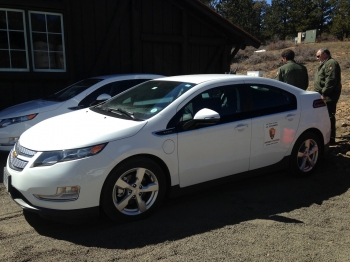 Rocky Mountain National Park in partnership with Northern Colorado Clean Cities, is deploying a propane pickup truck and two plug-in hybrid electric vehicles.  The park has also installed two electric vehicle charging stations and is educating staff members, concessionaires, and the public on the benefits of reducing vehicle idling.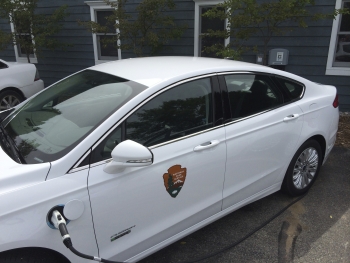 In partnership with Clean Cities, a number of National Parks are adopting alternative fuel and plug-in electric vehicles.  To minimize carbon pollution and other harmful emissions, some rangers in Sleeping Bear Dunes National Lakeshore in Michigan are driving plug-in electric vehicles like this one.  The park worked with the Clean Energy Coalition to deploy one propane pickup truck, three plug-in electric vehicles, and four electric vehicle charging stations.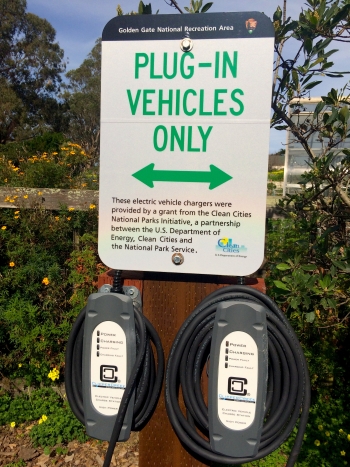 DOE's Clean Cities is collaborating with the National Parks Service to install plug-in electric vehicle chargers in a number of parks.  These chargers in Golden Gate National Recreation Area are available for the public to use, allowing more visitors to drive all-electric vehicles to the park.  The park installed five electric vehicle chargers in partnership with the San Francisco Clean Cities coalition.
America's National Parks are dedicated to safeguarding and providing access to our country's natural, cultural, and historical treasures. Through the Clean Cities National Parks Initiative, the Department of Energy is helping the National Parks Service (NPS) fulfill its mission on every level by adopting alternative fuel vehicles, minimizing petroleum use, and reducing greenhouse gas emissions from transportation. Clean Cities and the NPS have grown this partnership from three initial projects in 2010 to ongoing efforts at more than 27 parks across the country. To build on this success, the Clean Cities National Parks Initiative is announcing projects at five new parks as well as expanding alternative fuel use at three other parks.
These projects span the gamut of geographies and technologies. The parks themselves range from small historical locations to large recreational sites. To meet individual parks' needs, Clean Cities has helped the parks identify which vehicles and infrastructure are a best fit, from propane lawn mowers to plug-in electric vehicles (PEVs) and chargers. These projects are also educating park staff, concessioners, and visitors on how they can make their own driving behavior more sustainable. 
The new projects bring alternative fuel vehicles to a variety of locations and applications:
Christiansted National Historic Site (Virgin Islands): One of the few urban parks in the Caribbean, Christiansted preserves historical buildings on the island of St. Croix and educates visitors about the cultural heritage of the Danish colony. Rangers will use two all-electric vehicles as part of the park's on-going educational programs for the local community on climate change and sustainability. It will also install two PEV charging stations, the first ones on the Virgin Islands. 
 
Petrified Forest National Park (Arizona): Petrified Forest, with its distinctive geological features, desert ecology, and archeological artifacts, offers both cultural and recreational opportunities for visitors. The park is installing two public PEV charging stations, one at each end of the park.  One will be a DC fast charger that can add 50 to 70 miles of range to a vehicle in 20 minutes, while the second charger can add about 10 to 20 miles of range per hour. As the only fast-charging station in northeastern Arizona capable of charging all PEV models, this expansion will substantially increase the number of visitors who can drive their PEVs to the park. The project will also deploy an all-electric vehicle and a plug-in hybrid electric vehicle in the park's fleet. In addition, park and Clean Cities coalition staff members will be educating park visitors, tour bus drivers, and park staff on the benefits of reducing vehicle idling. To carry out the project, the park is partnering with the Tucson Clean Cities Coalition.
Point Reyes National Seashore (California): From rocky cliffs descending to the ocean to open grasslands, Point Reyes protects 38 endangered and threatened species as well as a variety of unique ecosystems. The park is adding two all-electric vehicles to its fleet and installing two private charging stations to support them.  Point Reyes is working with the San Francisco Clean Cities Coalition to carry out this project.
Wilson's Creek National Battlefield (Missouri): Wilson's Creek, the site of the first major Civil War battle fought west of the Mississippi River, allows visitors to experience one of the best-preserved battlefields in the nation. The park will be adding a propane pick-up truck and four propane lawn mowers. It will also install a propane dispenser to fuel the new equipment. The park is collaborating with the Kansas City Clean Cities Coalition.
Independence National Historical Park (Pennsylvania): The home of Independence Hall and the Liberty Bell, this historical park in Philadelphia tells the story of ideas that have shaped our nation. The park plans on replacing six conventional lawn mowers with ones that run on propane, as well as three refuse vehicles with those that run on electricity. 
In addition to these new projects, Clean Cities is also expanding existing projects at Grand Teton National Park (Wyoming), Yellowstone National Park (Wyoming), and the Great Smoky Mountains National Park (Tennessee). Yellowstone and Grand Teton are both adding plug-in hybrid electric vehicles to their fleets as well as installing public PEV chargers. These projects will help demonstrate the viability of using PEVs within the Greater Yellowstone Ecosystem and is the first phase in a larger regional electric vehicle infrastructure network. Great Smoky Mountains is replacing several gasoline-powered trucks–some of which are more than 20 years old–with new propane vehicles. The park estimates that this replacement will save more than 3,600 gallons of gasoline annually and more than 11 million metric tons of greenhouse gas emissions in total.
Across the country, our National Parks are making more sustainable transportation options available to their staff and visitors alike. Find out more about the Clean Cities National Parks Initiative on the Clean Cities website.