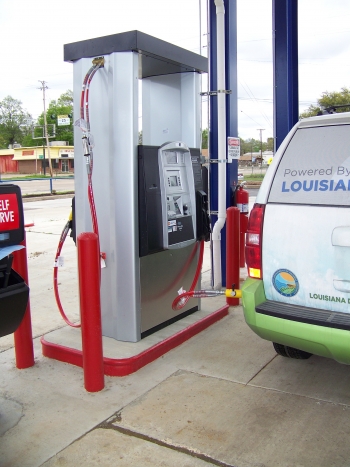 Shreveport, Louisiana's first public heavy duty CNG fueling station officially opened on Earth Day. | Photo courtesy of Ivan Smith Furniture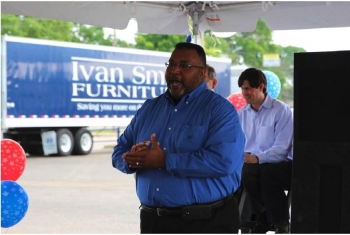 Cedric Glover, the Mayor of Shreveport, speaks during the opening of the CNG station at Ivan Smith Furniture. | Photo courtesy of Ivan Smith Furniture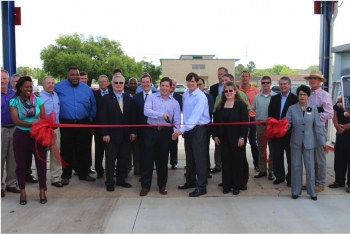 Local dignitaries cut the ceremonial ribbon during the opening of the CNG station at Ivan Smith Furniture. | Photo courtesy of Ivan Smith Furniture
A Shreveport, Louisiana, company is switching to a locally-produced, cleaner source of fuel and helping other distribution fleets do the same.  
With support from the State of Louisiana and the Energy Department, Freedom Fuel, located at 201West 70th St. in Shreveport, officially opened its compressed natural gas (CNG) fueling station, the first and only public heavy duty station in the area.
The Mayor of Shreveport, Cedric Glover, and keynote speaker, Robert "Bud" McFarlane of the U.S. Energy Security Council joined several others in attendance to unveil the new station on Earth Day yesterday. Participants included local officials, the Shreveport Chamber of Commerce, industry leaders in the energy field and members of the public.  The City of Shreveport is benefitting from the success of this project as it has stimulated local spending and created jobs for the installation of the station, including production of storage spheres and compression equipment.
During the event, several CNG fleet vehicles were on display, demonstrating the increased number of vehicles running on alternative fuels. The station was built by Trey and Jonathan Smith, part owners of Ivan Smith's Furniture, which used $500,000 in funding from the Energy Department's State Energy Program toward the project to help install necessary equipment for the Freedom Fuel station when it began last June.
Prior to constructing the new station, Ivan Smith Furniture gained experience in converting much of its fleet over to CNG. In fact, the company built a private CNG station at its Shreveport Distribution Center to service many of its natural gas vehicles.  The success of the project led to the new public station that is meant to provide additional fleet operations support for other nearby distribution centers, including Anheuser–Busch Budweiser and AT&T fleets.
According to National Renewable Energy Laboratory, which gathers and verifies alternative fuel data, there are about 700 CNG stations nationwide and more than 15 public stations in Louisiana. Also, a CNG-powered vehicle gets about the same fuel economy as a conventional gasoline vehicle on a gasoline gallon equivalent basis. 
Freedom Fuel is working with the Louisiana Clean Fuels Coalition to understand the total impact of both the public station project and the company's fleet CNG conversion, including long-term energy savings.
The project is one of many coordinated through the Louisiana Department of Natural Resources (DNR), which received $71 million in Recovery Act funding through SEP to promote energy efficiency and renewable energy to local governments, businesses and homeowners. As of March 2014, with funding from the Energy Department, the Louisiana DNR has funded the conversion of 140 conventional vehicles to alternative fuel use and installed 11 alternative refueling stations.  
The Weatherization and Intergovernmental Programs Office (WIPO) provides funding and technical assistance to its partners in state and local governments, Indian tribes, and international agencies to facilitate the adoption of renewable energy and energy efficiency technologies.
Editor's note: A previous version of this post contained an inaccurate reference to Freedom Fuel station.