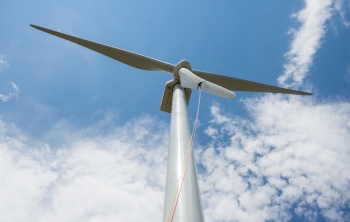 Pete Johnson inspects the blades of a wind turbine at the National Renewable Energy Laboratory's National Wind Technology Center in Boulder, Colorado. Advanced fiber-reinforced polymer composite materials can help make wind turbine blades stronger and lighter. | Photo by Dennis Schroeder, National Renewable Energy Laboratory
Advanced fiber-reinforced polymer composites, which combine strong fibers with tough plastics, are stronger but lighter than steel. American manufacturers use them in technologies such as aircraft and satellites that enable us to travel our world and explore the universe.
Advanced composites also have the potential to improve the efficiency and performance of clean energy technologies that cut carbon pollution and help Americans save energy and money.  For instance, advanced composites could reduce passenger car weight by 50% and improve fuel efficiency by about 35% without sacrificing performance or safety. This could save drivers more than $5,000 in fuel over the lifetime of an average car at today's gasoline prices.  Manufacturers can also use advanced composites to build longer, lighter and stronger wind turbine blades for America's wind energy industry.  However, these advanced materials are expensive and are currently not widely used in the clean energy industry.
To help drive down the manufacturing costs and support the widespread use of these versatile materials, President Obama announced on February 25 a new competition to establish an Advanced Composites Manufacturing Innovation Institute. The new Institute aims to develop high-speed and energy-efficient manufacturing and recycling processes that lower the cost and the amount of energy used to produce advanced fiber-reinforced polymer composites for clean energy applications. 
Teams from nonprofit organizations, universities, national laboratories and the private sector can now submit proposals to found the Advanced Composites Manufacturing Innovation Institute and receive up to $70 million over five years, subject to congressional appropriations. These funds must be matched by at least $70 million in non-federal commitments. Learn more about this funding opportunity and how to apply.
The competition is the first of four such new contests the Administration will launch this year to establish innovation institutes that strengthen U.S. competitiveness in manufacturing. The institutes will bridge the gap between applied research and product development and serve as regional hubs, bringing together the public and private sector to co-invest in key technology areas that encourage investment and production in America.
Part of the Department's Clean Energy Manufacturing Initiative (CEMI), and funded through the Advanced Manufacturing Office (AMO), the Institute will lead to more affordable advanced composites for American manufacturers, accelerate growth and innovation in domestic clean energy products, and spur the creation of high-quality U.S. manufacturing jobs.
See the White House press release, learn more about CEMI and AMO, and view tools, data, and other clean energy manufacturing resources.