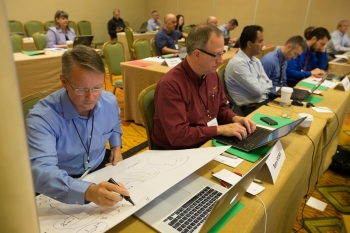 It's Day 1 of training. You have a busy day of icebreakers, lectures, workshops, and panels … and your team is presenting for the first time tomorrow at 9:15 a.m. If you are on a team participating in Lab-Corps' second cohort, that was your Tuesday afternoon this week.
As EERE's Lab-Corps program kicks off its second round of training this week in Golden, Colorado, this exciting new program continues to grow. Lab-Corps aims to accelerate the transfer of clean energy technologies from our national laboratories to the marketplace by training and empowering national lab researchers to successfully transition their discoveries into high-impact, real world technologies in the private sector.  
Fourteen teams from seven of DOE's national laboratories now begin their rigorous seven-week training, as we move past the pilot phase with Cohort 2, adding advanced manufacturing, geothermal, vehicles, and nuclear energy teams for the first time. When they graduate on May 5, they will join their colleagues from the first round of training in the growing Lab-Corps alumni network.
DOE's national laboratories are vital resources for our nation, comprising top researchers across countless technical fields. These researchers have accomplished amazing things over the years, but we wanted to see if we could empower them to do even more by better connecting them with industry. We took some of the best practices uncovered by our friends at the National Science Foundation's Innovation Corps program, and adapted these to work in the context of our national labs. The resulting program, Lab-Corps, takes some of the brightest minds in research and has them experience the life, and learn the lessons, of an entrepreneur.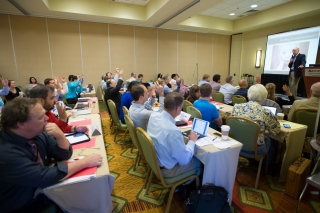 Lab-Corps is an accelerator program, but is also much more. The training follows the path of a typical start-up accelerator: engaging a group of teams on a demanding schedule that includes intense mentoring, frequent presentations of their ideas, and constructive peer feedback, and moves them toward an end goal at "graduation." This is where Lab-Corps diverges and shows itself for the truly unique experience that it is. A few Lab-Corps teams may think about start-up opportunities as they go through the program, but all teams will have to answer a bigger question: "What's next for my technology?" That's when we really get them thinking about their industry and potential customers.
This "customer discovery" process, will help the teams learn about the challenges within their industry and how their technology might address those needs; it will also help researchers identify the gap between the current state of their technology and the point at which a commercial partner would invest and take it to market. For example, as Team Ring Burner, from Lawrence Berkeley National Laboratory, navigated their way through this process as part of the first round of training, one thing became very clear: many people were interested in their technology, but none were ready to have serious discussions about commercialization. The team realized that their potential partners needed to see a prototype in action—and then made it happen. You'll hear more about Team Ring Burner's low-emission natural gas burner in the future.
At its core, Lab-Corps is an educational program for lab-based entrepreneurship. The next steps for teams after graduation will range from pursuing government and private funding to continue developing their technology, to seeking licensing or partnering opportunities, to building a start-up team. However, one thing remains certain: all 14 teams will return to their labs with a better understanding of the market for their particular technology and be better equipped to tackle that market's challenges. Here's what two alums said about their Lab-Corps experience:
"I've spent 29 years in the lab, and I thought I was close to industry.  I learned more in the last six weeks than in those 29 years."
"You can't learn this stuff doing a Google search."
Teams may identify a commercialization pathway for their current technology, or they may find they need to get back to the lab—but they'll also be better informed when they start their next research project. Yes, Lab-Corps will undoubtedly accelerate DOE lab technologies to market, but we're also focused on the long game. We're after the institutional change that occurs when our national labs take an industry-focused approach to their research—and these teams are showing that we are on to something.
Lab-Corps Alumni Updates
The timeline to commercialization can vary (and often be quite lengthy) for renewable energy technologies, but we're already seeing exciting progress from our first-round teams.  Team SonicLQ out of the Argonne National Laboratory has been selected as a finalist in the Early Stage Track in Chicago's Clean Energy Trust Challenge. Winners will be announced in April. Stay tuned for additional updates on the first round of graduates from Cohort 1.