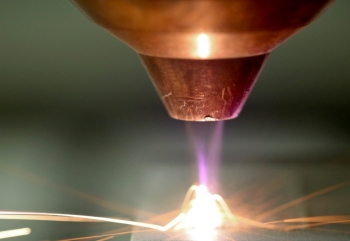 Additive manufacturing is just one of several technologies that are being advanced by the Energy Department's Clean Energy Manufacturing Initiative, which aims to strengthen U.S. competitiveness in the production of clean energy products | Photo by Oak Ridge National Laboratory
America has long led the world in innovation, driven by public-private partnerships and targeted research and development investments.  As our nation shifts to more sustainable forms of energy, the United States must strive to be a globally competitive leader in clean energy manufacturing.  Competitively manufacturing advanced and innovative clean energy technologies here in America will strengthen our economy, enhance our energy security, and improve our ability to further innovate.  In addition, leveraging our domestic energy resources, as well as best practices and cutting-edge technologies, to boost energy productivity across the entire U.S. manufacturing supply chain will make our manufacturing sector more efficient, cleaner, and more competitive. 
The Energy Department has established the Clean Energy Manufacturing Initiative (CEMI) – a Department-wide effort – to strengthen U.S. competitiveness in the production of clean energy products by investing in key technologies that leverage American competitive advantages and overcome competitive disadvantages. CEMI is also boosting U.S. manufacturing competitiveness across the board by increasing energy productivity through technology development and sharing best practices to enable U.S. manufacturers to increase their competitiveness with energy-efficiency upgrades, combined heat and power systems, and low-cost domestic energy sources such as biomass and natural gas.
As part of this initiative, the Energy Department is organizing regional summits around the country to expand its partnerships, share resources and successes, and refine its strategy to boost U.S. competitiveness in clean energy manufacturing.
The CEMI Western Regional Summit, which will be held on April 17 at the Parc55 Wyndham hotel in San Francisco, California, is the second in this series and will bring together up to 250 manufacturing leaders and experts from across the West Coast to:
Seek input on the Energy Department's strategy for clean energy manufacturing
Showcase regional clean energy innovation and manufacturing activities, opportunities, and successes
Highlight federal, state, and local resources for clean energy manufacturers and for clean energy innovators to scale up innovations to manufacturing processes
Foster networking among innovators, manufacturers, and federal and regional resources.
We welcome all private- and public-sector stakeholders interested in identifying opportunities that strengthen regional and national clean energy manufacturing competitiveness to attend the event.  The Summit is free of charge and open to the public. Register for the CEMI Western Regional Summit now, or learn more about CEMI.