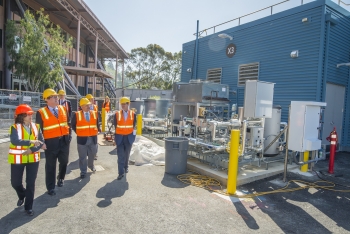 Dr. David Danielson, Assistant Secretary for Energy Efficiency and Renewable Energy (second from left), tours FLEXLAB with Lawrence Berkeley National Laboratory officials in California today. FLEXLAB is the only facility in the nation that allows researchers and industry partners to conduct full-scale outdoor tests of integrated building systems in a fully reconfigurable "plug-in-play" space. | Photo courtesy of Lawrence Berkeley National Laboratory
Residential and commercial buildings use 40% of America's energy, including 73% of all electricity used on an annual basis. This adds up to more than $400 billion in costs for homes and businesses, and nearly 2 billion metric tons of carbon emissions, which strains the economy and harms the environment.
The Energy Department's national laboratories, in collaboration with industry, and state and local governments, is addressing this challenge by advancing emerging building systems and components aimed at reducing a building's energy use 50%. This includes improving the energy efficiency, design, construction and operation of high-performance commercial buildings.
Today, the Energy Department's Lawrence Berkeley National Laboratory launched the first experiment in its newly-constructed test facility, equipped to provide fully-integrated design research for commercial buildings on an entirely customizable, configurable platform.
FLEXLAB, the Facility for Low Energy Experiments in Buildings, is the only facility in the country that allows researchers and industry to conduct full-scale outdoor integrated building systems, such as lighting, heating, and cooling systems, in a fully reconfigurable "plug-in-play" space.
The unique facility consists of four two-cell test beds, each designed as small office buildings fitted with parts that can easily be swapped out depending on what type of experiment is being conducted. One test bed rotates 270 degrees, which enables researchers to study how building energy use and environmental parameters change with solar conditions. Another test bed will study the effect of net-zero-energy buildings. Researchers and industry partners can customize tests by including or excluding occupants and factoring in the amount of energy used by products powered by AC plugs, also called plug load.
California-based construction firm Webcor Builder is using FLEXLAB to optimize and ensure the energy performance of a new facility that they are designing and building for the biotechnology firm Genentech.
Through FLEXLAB, Webcor Builder, and others in the industry, will be able to design and test mock-ups of innovative designs before building them, bringing transformative and energy-efficient technologies to market faster. This will ultimately benefit consumers, by enabling buildings that are better designed and operated for comfort and lower energy costs.  Learn more about FLEXLAB and the Energy Department's work related to building technologies.