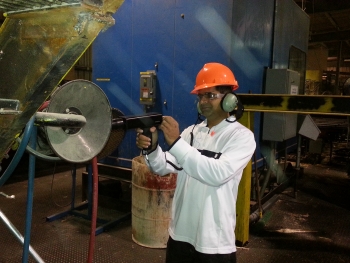 Dayakar Devaru, University of West Virginia graduate student, named Outstanding IAC Engineering Student for his contributions to more than 100 energy-efficiency Industrial Assessment Center (IAC) initiative assessments. | Photo courtesy of University of West Virginia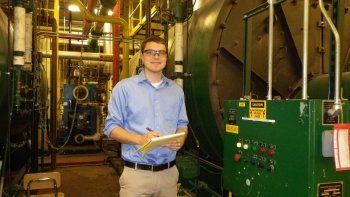 Dan Borgnakke, University of Michigan undergraduate, awarded Outstanding IAC Engineering Student of the year. | Photo courtesy of University of Michigan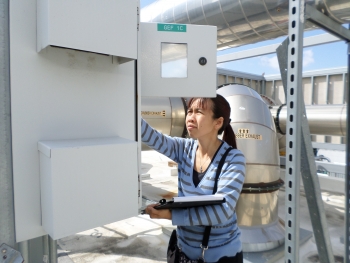 Sandra Chow, Senior Mechanical Engineer for BASE Energy, named one of five Distinguished IAC Alumni. | Photo courtesy of Sandra Chow
Improving productivity, reducing waste, and saving energy at manufacturing plants can go a long way to boosting competitiveness of the nation's small- and medium-sized manufacturers.  The Energy Department's Advanced Manufacturing Office Industrial Assessment Center (IAC) initiative helps manufacturers identify energy-efficiency upgrade opportunities through technical assistance provided by local university engineering departments and students.  For years, IACs throughout the country have trained the next-generation of energy savvy engineers, more than 60% of whom pursue energy-related careers after graduation.
To recognize IAC students, past and present,  who have made significant impacts through their work in energy efficiency, as well as for their outstanding accomplishments in promoting practices and principles of energy engineering, the Advanced Manufacturing Office is pleased to announce the winners of the first IAC Outstanding Student and Distinguished Alumni awards.    
These energy service professionals have demonstrated exceptional ability as engineers and advanced energy efficiency in the small- and medium-sized manufacturing community.  This year's winners are:
Outstanding IAC Engineering Student Awardees
Graduate Student – Dayakar Devaru (University of West Virginia):  Dayakar has contributed to more than 100 energy-efficiency assessments; taken a lead role in mentoring and teaching his fellow students; has achieved a number of energy-related certifications; and has maintained a 4.0 GPA while fulfilling his graduate studies.
Undergraduate Student – Daniel Borgnakke (University of Michigan):  Daniel has participated in more than 20 assessments, serving as lead student on 15, and has received the IAC award for excellence in applied energy-efficiency research for two consecutive years.
Distinguished IAC Alumni Awardees
Distinguished Alumni (Early Career Category) – Kyle Rademacher (University of Michigan, 2008):  Kyle is currently the lead for Schneider Electric's Energy Performance Center and he formerly led the deployment of their global commercial and industrial energy-efficiency services in Europe.  He has been very active in training, software tool development and assessment activities since his graduation.
Distinguished Alumni – John Seryak (University of Dayton, 2001 & 2004):  In 2006, John founded Go Sustainable Energy, Inc., an independent consulting firm specializing in providing energy services to industrial clients.  Nearly three-quarters of its employees are affiliated with IACs.  John has been published extensively and remains actively engaged with numerous stakeholders.
Distinguished Alumni – Dr. Darin Nutter (Oklahoma State University, 1986 & 88, Texas A&M University, 1994):  Dr. Nutter has been working and teaching in the field of industrial energy efficiency and sustainability for more than 25 years and has published more than 50 articles on related topics.   He currently leads the Arkansas Industrial Energy Clearinghouse, as well as the IAC affiliate at the University of Arkansas.
Distinguished Alumni – Sandra Chow (San Francisco State University, 2000): Sandra is a Senior Mechanical Engineer for BASE Energy, Inc. in San Francisco.  She has remained extremely active in the Bay Area and elsewhere, conducting energy-efficiency assessments, as well as design reviews, for wastewater treatment, industrial, and commercial facilities.
Distinguished Alumni – Adam Selvin (San Francisco State University, 2002):  Adam serves as Principal Business Architect for the Pacific Gas and Electric Company.  In this role, he leads a team of 30+ energy engineers working with industrial clients to identify and, in particular, implement energy savings opportunities.  
Learn more about the IAC program, as well as the accomplishments and on-going efforts of these exceptional IAC students and alumni.