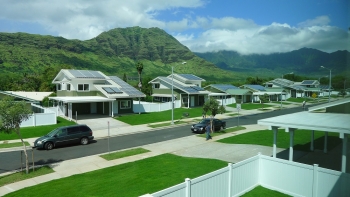 Set in the Waianae Valley of Oahu, Kaupuni Village is the first net-zero energy affordable housing community in Hawaii.| Photo by Ryan Siphers / Group 70, NREL 20155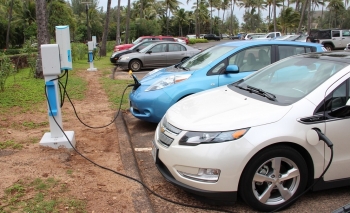 Plug-in vehicles using electric vehicle supply equipment (EVSE) in Oahu, Hawaii. | Photo by Better Place, NREL 22255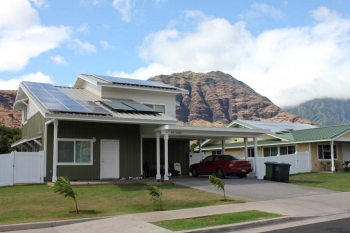 All Kaupuni Village homes incorporate energy efficiency and renewable energy technologies to achieve net-zero energy consumption. | Photo by Ken Kelly, NREL 20154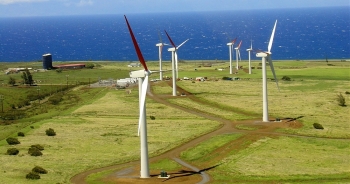 Photo of wind turbines at Hawaii Renewable Development, located on the Northern tip of Hawaii at Upolu Point.The project utilizes 16 Vestas V-47 660kW turbines, spread over approximately 250 acres. | Photo from Hawaiian Electric Light Company, NREL 14697
EERE Investment
Technical Assistance
Location
Hawai'i
Partners
State of Hawai'i Department of Business
Economic Development and Tourism
State Energy Office
Hawaiian Electric Company
Project Details
In an effort to reduce its dependence on imported fossil fuels, the state of Hawai'i, in partnership with the U.S. Department of Energy (DOE), launched the Hawai'i Clean Energy Initiative (HCEI) in 2008. The goal of HCEI is to achieve 70% clean energy by 2030 through renewable energy and energy efficiency.
Highlighted Energy Efficiency Projects
To meet the HCEI'sclean energy goal, 30% of Hawai'i's electricity demand must be reduced through energy efficiency measures. Energy efficiency projects and accomplishments are highlighted below.
EV Ready Program
DOE's State Energy Program provided $4.5 million in funding for Hawai'i's Transportation Energy Diversification Electric Vehicle (EV) Ready Program to help implement EVs and related infrastructure, reduce the overall number of vehicle miles traveled, and expand the use of renewable fuels in the transportation sector.
Along with the EV Ready Program, the University of Hawai'i Maui College, in partnership with the Hawai'i State Energy Office, the Honolulu Clean Cities Coalition, and the University of California San Diego, received nearly $300,000 in funding from DOE to develop a comprehensive plan that addresses the deployment of EVs and charging infrastructure through renewable energy grid system analysis and EV charging permitting processes.
By 2012, Hawai'i exceeded the national average for charging ports with nearly 290, and also boasted 1,136 EVs on the road. Additionally, local residents who own an EV reap the benefits of using high-occupancy vehicle lanes, free parking at state-owned locations, and significant cost savings. 
Kaupuni Village
Hawai'i is also focusing on implementing renewable energy and energy efficiency in residential areas. Built in 2011, Oahu's Kaupuni Village is the first net-zero energy affordable housing community in the state, achieving the U.S. Green Building Council's Leadership in Energy and Environmental Design ® Platinum designation.
Led by Hawai'ian Home Lands Trust and its partners, with technical assistance from DOE and the National Renewable Energy Laboratory, each of the 19 single-family homes in Kaupuni Village uses 40% less energy than a standard-built baseline home. Energy efficiency and renewable energy features include ENERGY STAR® appliances, high-efficiency lighting and daylighting, natural ventilation, high-efficiency air conditioners, water-wise landscaping using native species, solar water heating, and rooftop solar panels.
Other Energy Efficiency Accomplishments
Additional energy efficiency accomplishments achieved as part of HCEI include:
Established a 30% state energy efficiency portfolio standard to achieve 4,300 gigawatt-hours by 2030
Created and deployed a Public Benefits Fund to finance building retrofits with leading-edge energy efficiency technologies
Deployed a state "Lead By Example" program to encourage government buildings, fleets, and personnel to become leaders in applying best practices in energy efficiency and conservation
Adopted new, highly efficient building codes (IECC 2006 or higher) in all Hawai'i counties
Decoupled the utility revenue stream from kilowatt-hour sales revenues, removing the disincentive to promote and enhance energy efficiency
Enacted legislation in 2013 allowing the State of Hawaii Department of Business, Economic Development, and Tourism to issue Green Infrastructure Bonds to secure low-cost financing for clean energy installations, including both renewable energy and energy efficiency measures.
Highlighted Electricity Generation Accomplishments
In addition to implementing energy efficiency to meet the 70% goal, 40% of Hawai'i's electricity must be generated by renewable resources, including solar, wind, geothermal, hydropower, and biofuels. Electricity generation accomplishments achieved as part of HCEI are highlighted below.
Implemented four new wind projects: Kahuku (30 megawatts [MW]), Kaheawa II (21 MW), Auwahi (21 MW), Wailaloa (69 MW)
Increased distributed solar from 12 MW in 2008 to 300 MW in 2013
Established a state renewable portfolio standard of 40% by 2030 
Completed an energy agreement between the Hawaiian Electric Company and the state that includes energy commitments, measures to increase energy efficiency, and improvements to grid operation and infrastructure
Led the nation in growth rate of distributed generation photovoltaic installation
Met nighttime demand on the Big Island with 80% renewable energy from geothermal, biomass, and wind
Created a Permitting Facilitator position in the State Energy Office to facilitate siting and permitting of renewable energy projects
Completed the Hawai'i Bioenergy Master Plan.
More Information