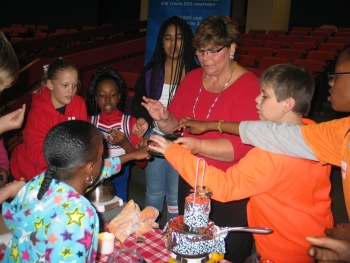 Sixth graders compare emissions from a candle—invisible until they hold a mirror close to the flame and watch carbon blacken its surface. The same mirror grows steamy but clear when held up to the water vapor piping out of the tea kettle. Sharon Cosgrove, of the Energy Department's Geothermal Technologies Office, talks with the students about energy options: burning hydrocarbons to boil water and generate steam or letting the Earth heat water naturally with geothermal energy. | Photo courtesy of Old Mill Middle School North
Dozens of middle schoolers noisily clamor into the auditorium, their eyes fixed on a colorful hydropower graphic and wind power poster before settling with interest on the energy bike. A whisper spreads through the crowd there may be candy in the room. At Old Mill Middle School North in Millersville, Maryland, two of the Energy Department's Education & Workforce Development team are poised to lead young minds on an adventure in science and sustainability.
Six feet of boundless enthusiasm, the dynamic Josh Sneideman—one of the Energy Department's esteemed Albert Einstein Fellows—is a magnet for these students, who lean in close to catch a colorful array of renewable energy slides on the screen behind him. He shares the stage with Sharon Cosgrove, from the geothermal office, who has come to talk about energy from the Earth's heat and engage kids in the discovery of geothermal science.
With a broad grin, Josh shares his passion for energy literacy and his belief in the important role each of us plays in solving America's environmental and energy challenges. After 10 years teaching science and energy in the classroom, Josh knows the mind of the middle schooler. He doesn't let the dust settle before dividing up the room and sending these future scientists to an array of makeshift laboratories to test their theories on solar panels, handmade windmills, and a geothermal turbine driven by steam from a tea kettle.
Through four class periods, all 300 sixth-grade science students at Old Mill get a chance to experiment with clean energy technology. Amid the chaos, there are light bulbs going on, literally. Which wind turbine design turns most efficiently? Where does a solar panel get the best exposure to its energy source? And how hard do you have to pedal to power a light bulb? By fostering a better understanding of renewable energy systems at work, these early lessons could one day drive these bright minds toward the next breakthrough in clean energy.