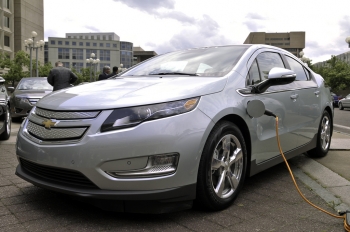 Plug-in electric vehicles, such as the Chevrolet Volt, run on electricity for short trips but use gasoline for longer trips. | Department of Energy photo
Today we are introducing a new weekly feature on EERE Blog that highlights—you guessed it—fun facts about clean energy. For our inaugural edition, we are spotlighting plug-in hybrid electric vehicles (PHEVs).  With the ability to use their internal combustion engine after their batteries are depleted, PHEVs offer consumers flexibility to run on electricity for short trips but still take longer trips using gasoline.  Did you know there are now at least four PHEVs available to consumers for model year 2013? These include:
Chevrolet Volt
Ford Fusion Energi PHEV
Ford C-Max Energy PHEV
Toyota Prius PHEV
Each automaker has taken a slightly different approach to PHEV technology. The Volt offers the longest all-electric range at 38 miles, but has the shortest overall range at 380 miles (electric 38 miles + gasoline 342 miles).
The two PHEVs from Ford offer the greatest overall range at 620 miles each but just 21 of those miles are all electric. The Toyota Prius PHEV provides the shortest electric driving range at 11 miles but has an overall range of 540 miles.  No matter what your driving needs are, there are plenty of PHEV options for you to choose from. 
Compare the fuel efficiency, emissions and costs for these and other cars with the Alternative Fuels Data Center's Vehicle Cost Calculator. Also, check out the Vehicle Technologies Office website for more facts about PHEVs and other alternative fuel vehicles. Interested in how electric vehicles work? Watch our Energy 101 video or visit our Energy Basics website.
Driving Ranges for Model Year 2013 Electric Vehicles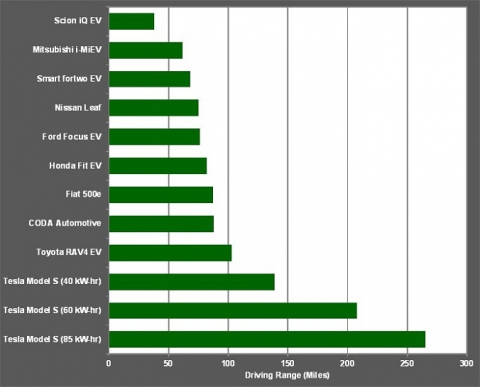 Notes: Electric driving range based on Environmental Protection Agency laboratory testing. These data may not directly match the vehicle manufacturer's stated range. The Tesla Model S with a 40 kW-hr battery capacity has been discontinued.