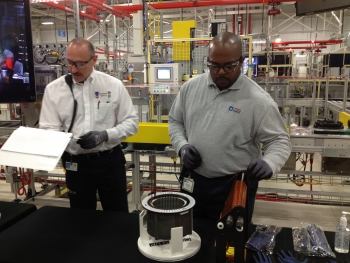 The General Motors Baltimore Operations facility at White Marsh is producing electric motors for the Chevrolet Spark EV and is the first time a domestic automaker is building electric motors for an electric vehicle in the United States. | Energy Department photo
The EV Everywhere Grand Challenge is the Energy Department's 10-year vision to enable the U.S. to be the first nation in the world to produce plug-in electric vehicles that are as affordable for the average American family as today's gasoline powered vehicles by 2022. This Challenge is bringing together America's best and brightest scientists, engineers, and businesses to work collaboratively to make plug-in electric vehicles less expensive and more convenient to own and drive. Follow this series to learn about just a few examples of how this vision is becoming a reality.
Like a translator at a multi-lingual meeting, the electric drive system in a plug-in electric vehicle bridges two different types of energy. While the battery pack stores the electrical energy, the electric drive system's power electronics and motors convert it into mechanical energy to power the wheels.  As part of the EV Everywhere Grand Challenge, EERE's Vehicle Technologies Office funds research and development of innovative electric drive technologies to reduce cost while improving the performance and reliability of plug-in electric vehicles.  In fact, the Vehicle Technologies Office supported the nation's first factory to build electric motors for an American auto manufacturer.
Electric drive systems have two major parts: power electronics and electric motors.  Power electronics manage the electricity flowing from the battery and convert it into a form that the electric motor can use. Specifically, the inverter changes direct current (DC) power from the battery into alternating current (AC) power. The electric motor then takes the AC power and converts it into the mechanical energy that moves the vehicle forward. 
To improve electric drive technologies, the Vehicle Technologies Office is researching how to accelerate the use of wide bandgap semiconductors in power electronics and reduce or eliminate rare earth magnets in electric motors.  Wide bandgap semiconductors' unique properties enable them to operate more efficiently and at higher temperatures than today's silicon devices.  The Vehicle Technologies Office funds research to incorporate wide bandgap devices that reduce the cost, volume, and weight of power electronics in vehicles.  Also, most plug-in electric vehicles use permanent magnet electric motors, which currently rely on rare earth materials that are expensive and not available in the U.S.  The Vehicle Technologies Office supports efforts to investigate innovative motor designs and alternative magnetic materials that decrease or eliminate the need for rare earth materials.
The Vehicle Technologies Office has also strengthened efforts to get today's plug-in electric vehicle technologies out on the road faster.  With help from a cost-shared award through the American Recovery and Reinvestment Act, General Motors built, and is now operating, an electric motor manufacturing plant in Maryland.  These motors are going into the new all-electric Chevrolet Spark EV, which will have 130 horsepower and 400 foot-pounds of torque. The Vehicle Technologies Office has a long-running partnership with General Motors that supported the development of this technology. The Maryland factory is the first and only facility in the United States building electric motors for plug-in electric vehicles for an American-based auto manufacturer.
From research and development to on-road technologies, the Vehicle Technologies Office is supporting research into new ways for electric drive systems to be less expensive with improved performance and efficiency, enabling better plug-in electric vehicles for U.S. drivers.