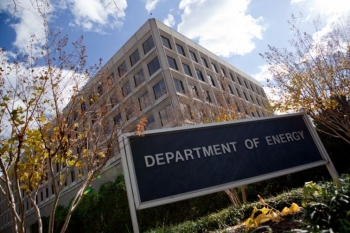 The Energy Department has won the Environmental Protection Agency's Green Power Leadership Award. | Energy Department photo, credit Quentin Kruger
For the Energy Department (DOE), a major focus of our mission involves supporting scientific research in renewable energy technologies. In fact, DOE is so committed to the scientific advances being made every day by the Department, that we even use electricity generated by renewable energy technologies in nearly all of our building operations.
In total, about 14% of the Department's overall electricity use at facilities throughout the country is powered by renewable energy systems including wind, solar, geothermal, hydropower and bioenergy.  Currently, DOE ranks first among all federal agencies that are members of EPA's Green Power Partnership.
This week, the Environmental Protection Agency (EPA) honored DOE with the Green Power Leadership Award, recognizing that DOE is one of America's top green power consumers while also being a leader in advancing the green power market.
A big part of DOE's success has been due to DOE's annual Strategic Sustainability Performance Plan, which the Department uses to develop strategies to meet green power usage and purchase goals. For example, the Department recently installed a bioenergy-fueled cogeneration facility at its Savannah River Site in Aiken, S.C. The new 20-megawatt (MW) bioenergy plant will save an estimated $944 million in fuel, operations and maintenance costs over the next 20 years.
The Department's National Renewable Energy Laboratory Research Support Facility is also a great example for energy efficiency and renewable energy technologies—this 360,000-square-foot LEED® Platinum building produces nearly 2.5 MW of green power annually from its solar photovoltaic arrays.  
For additional information on DOE's green power efforts, visit the Sustainability Performance Office website. For more on the Green Power Awards, go to epa.gov/greenpower/awards.