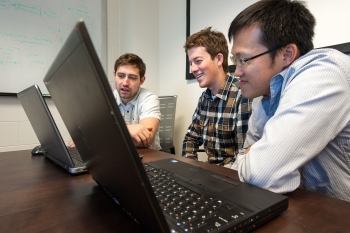 National Renewable Laboratory intern Chad Hotmimsky, center, looks at simulations of wave energy converters with research engineers Michael Lawson, left, and Yi-Hsiang Yu, right. The two engineers mentored Hotmimsky at the National Wind Technology Center. | Photo by Dennis Schroeder, National Renewable Laboratory
Every internship is a gateway to opportunity.  Case in point: Daniel Boff.  As a rising senior at George Washington University, Daniel was double majoring in Environmental Studies and American Studies.  With prior internship experience primarily in state energy markets, he wanted to expand his understanding of the renewable energy industry and gain real-world experience by applying for an internship at the Energy Department (DOE) in Washington, D.C. 
Daniel spent the fall 2013 semester working as an intern at DOE's Office of Energy Efficiency and Renewable Energy, and was a key player on the Education and Workforce Development team, writing about clean energy topics and working on several projects.  After his internship, Daniel graduated from college and secured a full-time position as a Junior Energy Analyst supporting DOE's SunShot Initiative, which works to make solar energy more cost-competitive with other forms of electricity by the end of the decade.
Not every internship story is as successful as Daniel's, but you don't open doors by staring at doorknobs.  An internship provides opportunities, if not by leading you to a potential job, then by way of exposure and experience.  "I think there are a lot of things an education doesn't prepare you for, especially about working in an office environment," said Daniel.
Daniel said a broadened outlook about the larger clean energy industry and the ability to make connections were the two strongest outcomes of his internship.  "Just getting out of the academic mindset children are placed in and gaining perspective is important," he explained. Daniel acknowledged that internships are an effective first step in starting a career as they allow you to develop connections that could lead to future job opportunities.
Internships provide important insight by teaching students how to comply with rules, communicate with others, attend and participate in meetings, and other important office skills that provide a competitive edge when joining the workforce.  In addition, regardless of the work you do, internships provide exposure that allows for networking, a benefit Daniel can wholeheartedly vouch for.
People seek out internships to take advantage of the role these experiences often play as catalysts for employment.  Regardless of the subject area of your internship, Daniel sees these opportunities as "a really good way to dip your toe in a relatively low-risk environment."  You go into an internship to learn more, to familiarize yourself with something you were formerly unacquainted with, and to find what you are passionate about by exploring things you think you may have an interest in, even if you later realize you do not.
Learn more about Energy Department internships, clean energy industry jobs, and training.  Only you can decide to subject yourself to the opportunities an internship will afford, so reach for doorknobs because doors will not open themselves.