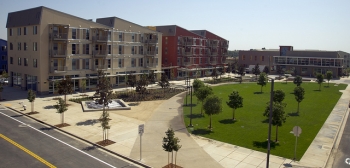 The new Viridian apartments at West Village at UC Davis. | Photo from UC Davis ARM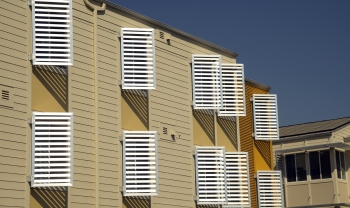 Sunlight reflects off the metal window sun shields on the Ramble apartments at West Village at UC Davis in Davis, California. | Photo by Greg Urquiaga /UC Davis, NREL 20240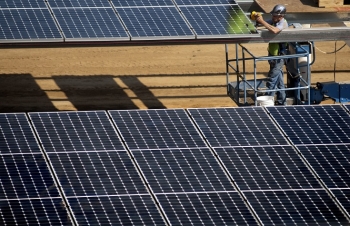 Workers install the parking lot solar panels at West Village at UC Davis. | Photo from UC Davis ARM
DOE Investment
$2.5 million
Location
University of California, Davis
Partners
DOE Building America Program
Davis Energy Group
California Energy Commission
Sacramento City College
Project Details
With the help of $2.5 million in U.S. Department of Energy (DOE) funding, the University of California, Davis (UC Davis) built a net-zero community on its 130-acre West Village campus that provides housing for approximately 3,000 people in 662 apartments and 343 single-family homes.
UC Davis is one of five community-based renewable energy projects that received technical assistance from DOE through the Community Renewable Energy Deployment Program funded by the American Recovery and Reinvestment Act of 2009.
Through a variety of projects, UC Davis is working to meet California net-zero energy goals for all new residential construction by 2020 and all new commercial construction by 2030. The $280 million UC Davis project was made possible by an innovative public-private partnership, with nearly $7.5 million in federal and state grants being used to study net-zero energy systems. Ultimately the project will encompass approximately 45,000-square-feet of retail space and about 60,000-square-feet for Los Rios Community College, which will be the first community college on a university campus in California.
In October 2011, the initial phase of UC Davis' West Village sustainable campus was completed. Designed to reduce energy consumption by 50% when compared to current building code requirements, the campus generates its remaining energy needs through photovoltaic solar panels on building rooftops and parking structures.
By September 2012, 1,300 students moved into the West Village apartments where they can use the Web and apps on their smart phones to monitor their daily energy use and find out how to save electricity.
Additional Projects
UC Davis operates a Biogas Energy Project that uses a biodigester to convert about 25 to 50 tons of food and other organic waste into an estimated 2 million kilowatt-hour of energy and 21,000 million British thermal unit of gas per year, fertilizer, and additional valuable by-products.
More Information