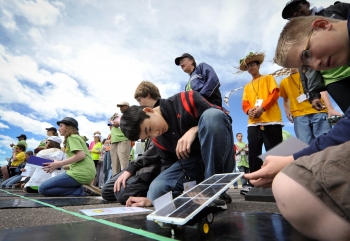 Students participate in the Junior Solar Sprint and Hydrogen Fuel Cell Car Competition in Littleton, Colorado in 2011. The Energy Department supports competitions and activities that encourage students to get more involved in science, technology, engineering, and mathematics (STEM). | Photo by Dennis Schroeder, National Renewable Energy Laboratory
Ensuring students know the basics in science, technology, engineering, and mathematics (STEM) is one of the keys to moving our clean energy economy forward.
STEM-literate workers are the engineers who design solar panels, wind turbines, and improved advanced manufacturing techniques. Computer programmers develop software to solve problems and increase the energy efficiency of buildings and industrial plants. Statisticians can spot energy consumption trends and predict future peak demand, while chemists can create enhanced materials. And it all starts with teaching STEM topics to students.
However, despite the power that STEM-related workers can have in revolutionizing our clean energy economy, the United States is lagging behind other industrialized nations, ranking 25th in mathematics and 17th in science, according to the U.S. Department of Education.  
How can we as a nation encourage our students to get more involved in their STEM studies? The Energy Department (DOE) is doing our part to help solve this challenge through the programs, initiatives, and resources listed below:
This month, DOE has taken another step toward bridging the STEM gap for the Hispanic community and the more than 37 million people in the U.S. who speak Spanish at home. Conocimiento de Energía, the Spanish version of our Energy Literacy Framework for energy educators, was publicly released today at the Latin American Youth Center (LAYC) Career Academy STEM Fair. DOE's Energy Savers Guide (Ahorre Energía) is also available in Spanish.
The nation's youth form the foundation for tomorrow's workforce. Our task is to inspire their passion in the STEM fields and guide our bright and increasingly diverse student base to pursue career paths that can improve our lives and preserve the environment.
Check out the Energy Education and Workforce Development website for more student competitions, internships, and other opportunities to get involved in energy. Teachers can also find energy-related lesson plans and activities.
 This post is part of our "Educated and Equipped" EERE Blog series. Stay tuned for our next post!