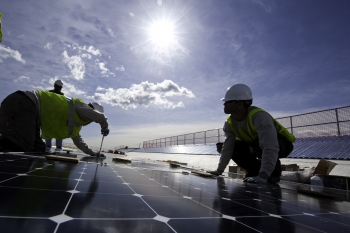 Workers install photovoltaic modules on top of a parking structure at National Renewable Energy Laboratory in Golden, Colorado. The Energy Department has several training resources for energy and manufacturing workers. | Photo by Dennis Schroeder, National Renewable Energy Laboratory
As America's clean energy economy grows, it's vital the nation has knowledgeable and well-trained workers who can find solutions to energy challenges.  To help prepare the clean energy workforce of tomorrow, the National Science Foundation, the Department of Labor (DOL) and the Energy Department (DOE) have developed several training programs for those in the energy and manufacturing industries.
DOL's Trade Adjustment Assistance and Community College Career Training (TAACCCT) Program has heavily invested in the nation's community college system, funding more than 170 awardees and consortia members across every U.S. state, representing over 800 community colleges through the first three rounds of funding. DOL recently announced the latest and final 450 Million dollar round of funding.
The program focuses on training workers for high-demand jobs in sectors with positive growth potential, and has provided nearly $2 billion in funding to community colleges that offer training for unemployed workers, especially those affected by trade adjustment. More than 50% of this funding centers on energy and manufacturing, highlighting the importance of these growing sectors of our economy.
Two examples of the many TAACCCT-funded workforce programs that provide training in energy and manufacturing are below:
The Florida Transforming Resources for Accelerated Degrees and Employment (TRADE) in Advanced Manufacturing program – Consisting of 12 Florida state and community colleges, this program focuses on creating accelerated training programs in traditional and advanced manufacturing topics, including computer-controlled machining, engineering, industrial mechanics, and welding.
The Illinois Green Energy Network (IGEN) Career Pathways program – This consortium of 17 hubs engages all 39 of Illinois's community college districts with 48 campuses coordinating together to increase the effectiveness, quality, and opportunities for workforce training in clean energy and advanced manufacturing technologies. Training topics include renewable energy, including, solar and wind turbine technology, as well as building efficiency and weatherization.
All of the curricula and training materials for these programs are under Creative Commons Licensing, making them free and available to the public. This enables other community colleges, nonprofits, industry partners, and universities to use and improve the content for their own training programs. Through this sharing of resources and best practices, students can receive higher quality training and education, which will ultimately lead to a better-informed, better-skilled workforce prepared to tackle future energy challenges.
The TAACCCT program represents a large and unique federal investment in the nation's energy and manufacturing workforce training curricula and capacity. Join the growing clean energy economy today and check out federal investment in energy and manufacturing. For more information about training, certification, and degree programs explore our Education and Workforce Development website.
This post is part of a new "Educated and Equipped" EERE Blog series. For our next installment, we'll take an in-depth look at how programs mentioned above are helping to prepare our clean energy workforce.