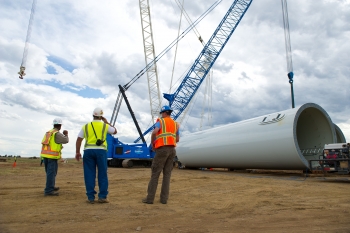 A work crew installs a turbine at National Renewable Energy Laboratory's Wind Technology Center in Colorado. The Advanced Technological Education program aims to strengthen and increase opportunities for clean energy-related training at community colleges throughout the country. | Photo by Dennis Schroeder, National Renewable Energy Laboratory
Looking for ways to advance your technical skills in the clean energy industry? The National Science Foundation (NSF) has been working for over 20 years to strengthen the nation's technical workforce through the Advanced Technological Education (ATE) program.
With its focus on two-year colleges, the ATE program awards grants to individual institutions and also funds ATE centers of excellence in science and engineering technician training. In 2012 alone, the ATE program educated more than 96,000 students in over 2,000 institutions across the country. As in our previous blog post on the Department of Labor's TAACCCT program, a number of the ATE individual programs and centers focus on energy and advanced manufacturing topics.The funding supports several activities that help America's future scientist and engineers including: developing career pathways, professional development and teacher training, curriculum development and educational research, and promoting partnerships between employers and academic institutions. Examples of two of these awards in energy and manufacturing workforce training are below.
Bellingham Technical College, in close collaboration with Western Washington University (WWU) and the Pacific Northwest Center of Excellence for Clean Energy, is developing an Associate in Applied Science-Transfer Degree in Sustainable Energy.
From the University of California, Irvine, this project is creating a flexible technician education framework (pilot in additive manufacturing) that draws on the experience of the National Network Manufacturing Institutes (NNMIs) to prepare the workforce for advanced manufacturing technical occupations of the future.
The 42 National, Regional and Resource ATE Centers gather together awardee institutions in technological communities of practice to share best practices and to work together on workforce challenges, while also building partnerships with industry. Below are some examples of the number of centers that are focused around advanced manufacturing and energy workforce topics.
ATE Centers focused on Advanced Manufacturing Technology
Florida Advanced Technological Education Center of Excellence
Regional Center for Next Generation Manufacturing
National Center for Welding Education and Training
ATE Centers focused on Energy and Environmental Technology
Advanced Technology Environmental and Energy Center
Building Efficiency for a Sustainable Tomorrow Center
For more information about funding opportunities available to colleges and universities in energy and manufacturing workforce training through the NSF visit their active funding opportunities page. For more information about training, certification, and degree programs explore our Education and Workforce Development website. Information about other programs increasing opportunities in energy and manufacturing workforce training can be found on our federal investments in energy and manufacturing training page.
This post is part of a new "Educated and Equipped" EERE Blog series.  For our next installment, we'll highlight the importance of science, technology, engineering, and mathematics (STEM) education in encouraging students to pursue clean energy careers.