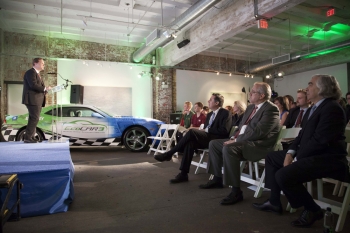 Energy Secretary Ernest Moniz (far right) watches as Assistant Secretary for Energy Efficiency and Renewable Energy David Danielson speaks during the EcoCAR 3 competition launch event in Washington, D.C. on April 24. Student teams from throughout the country will put their engineering skills to the test in a four-year competition to make the Chevrolet Camaro more sustainable. | Energy Department photo
The Chevrolet Camaro, one of America's iconic muscle cars, is about to get a lot greener.  Recently in Washington, D.C., Energy Secretary Ernest Moniz and Assistant Secretary for Energy Efficiency and Renewable Energy David Danielson kicked off EcoCAR 3, a four-year collegiate competition focused on making vehicles more sustainable and providing students with critical real-world experience to move the auto industry forward.
As part of EcoCAR 3, the Energy Department's Vehicle Technologies Office, Argonne National Laboratory and General Motors challenges the next generation of scientists and engineers to improve the Chevrolet Camaro's fuel efficiency and environmental impact, while maintaining its high performance standards and original body design.
Teams will put their skills to the test and use the latest engineering tools and advanced vehicle technologies to build and optimize an eco-friendly powertrain for their own Camaro. 
The following 16 collegiate teams will compete in EcoCAR 3:
University of Alabama
Arizona State University
California State University, Los Angeles
Colorado State University
Embry-Riddle Aeronautical University
Georgia Institute of Technology
McMaster University
Mississippi State University
The Ohio State University
Pennsylvania State University
University of Tennessee, Knoxville
Virginia Polytechnic Institute and State University
University of Washington
University of Waterloo
Wayne State University
West Virginia University
For more on EcoCAR 3, read this Vehicle Technologies Office article or visit EcoCAR3.org.  Also, check EERE Blog for upcoming coverage of the EcoCAR 2 finals, which wraps up June 9 to June 12 in Washington, D.C. Learn more about EcoCAR 2 and follow the conversation on Twitter and Facebook using #EcoCAR2.