Next month, 15 university teams facing off in EcoCAR 2 will reach the home stretch of the race. A two-part competition will determine which team is crowned winners of the Energy Department's latest advanced vehicle technology competition.
Since EcoCAR 2 kicked off in April 2011, the 15 participating North American university teams have been hard at work. Over the past three years, they have designed advanced propulsion technologies and integrated them into a 2013 Chevrolet Malibu. Each team's challenge is to reduce its car's environmental impact measured in fuel consumption and emissions while retaining its consumer acceptability in performance, utility and safety. From June 1 to 12 in Milford, Michigan, and Washington, D.C., EcoCAR 2 teams will compete in more than a dozen events and refine their vehicles into near-production prototypes.
Today, we highlight five of the 15 teams and their unique approaches to building innovative vehicles on the cutting edge of clean transportation.
Cal State, Los Angeles
CSULA's interdisciplinary team brings together several departments to manage the various aspects of its EcoCAR entry, from engineering to business. The vehicle design incorporates both an E85 (a blend of approximately 85% ethanol) engine in the front and an electric motor in the rear of the vehicle. The vehicle's engine and electric drive motor can provide either  mechanical power to the wheels or regenerative charging to the battery. CSULA's car has a 20-mile, electric-only range, after which it runs on E85.                                                                                              
Colorado State University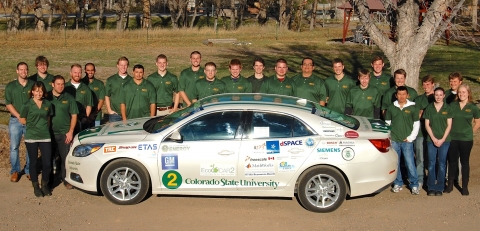 This team works out of the CSU Motorsports Engineering Research Center and is incorporating hydrogen fuel cell technology into its plug-in electric vehicle. Instead of a regular plug-in hybrid electric vehicle that switches over to gasoline or diesel when the battery runs out, this vehicle changes over to running on hydrogen. In addition, the vehicle employs regenerative braking, which creates energy from braking to be reused by the motor. When complete, CSU's vehicle will have approximately a 55-mile, all-electric range and will use its fuel cell running on hydrogen on longer trips up to 200 miles.
Embry-Riddle Aeronautical University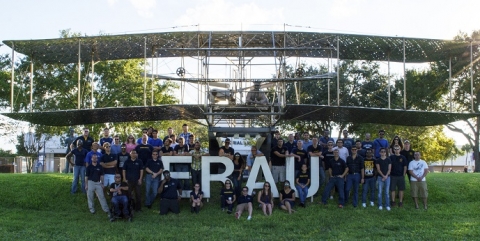 These Daytona Beach, Fla., students are known as the EcoEagles — a reference to the school's prestigious aviation history. The EcoEagles' Plug-in Hybrid Electric Vehicle (PHEV) has a range of up to 42 all-electric miles per charge. Once the battery runs down,  the vehicle's diesel engine runs on B20 (20% biodiesel processed vegetable oil blend) and maintains the charge on the battery pack. This system gives the vehicle an estimated 105 miles per gallon gasoline equivalent.
Mississippi State University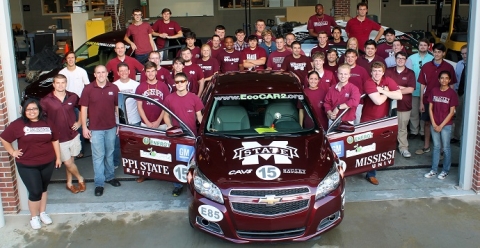 MSU has been involved in the Energy Department's advanced vehicle technologies competitions for 10 years, going all the way back to the ChallengeX competition in 2004. This competition's team has 81 members and has built a PHEV. The vehicle will be capable of recharging from the electric grid and can run for 60 miles on electricity alone. After the initial charge is depleted,  the engine will run on E85 to maintain the battery and power the car.  As a result, the car won't suffer from the limited range associated with all-electric vehicles. 
North Carolina State University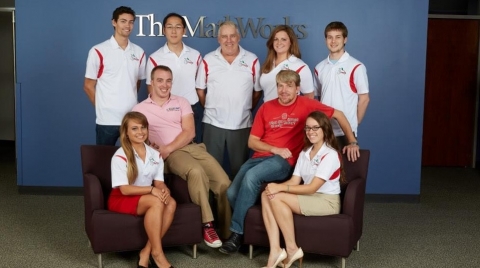 The Wolfpack are also experienced AVTC competitors, and this competition's team has designed a PHEV with a 45-mile all-electric range and a diesel engine running on B20 for extended range. The team is split into subgroups that are each responsible for a different area of the project, including mechanical engineering, design of the vehicle's controls, communications and business management.
Established by the Energy Department and General Motors, EcoCAR 2 builds upon a successful 25-year history of Advanced Vehicle Technology Competitions that exemplify the power of public/private partnerships in providing invaluable experience and training to promising, young minds entering the North American job market. Learn more about EcoCAR 2 and check the EERE Blog for future coverage.