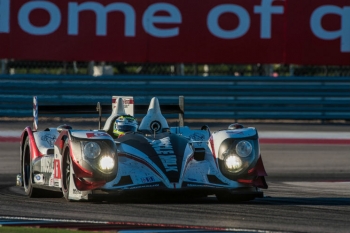 Team Muscle Milk won the American Le Mans Series race at the Circuit of the Americas in Austin, Texas last weekend. The Honda ARX-03c runs on E10 fuel. | Photo courtesy of Rizzo Motorsports Images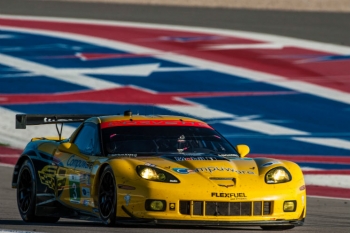 A Corvette running on E85 fuel won the GT class at Circuit of the Americas. | Photo courtesy of Rizzo Motorsports Images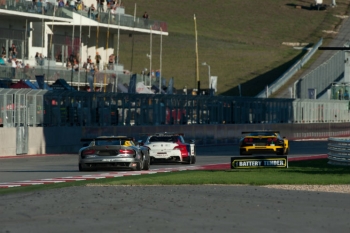 Cars jockey for position during the American Le Mans Series race at the Circuit of the Americas. | Photo courtesy of Rizzo Motorsports Images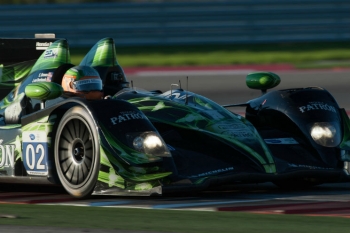 The American Le Mans Series race at the Circuit of the Americas is part of several Green Racing events. Green Racing fosters new technology development that reduces greenhouse gases and exhaust pollutants, while increasing fuel economy. | Photo courtesy of Rizzo Motorsports Images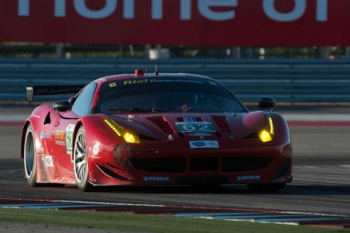 The #62 Ferrari in action during the American Le Mans Series race at the Circuit of the Americas. | Photo courtesy of Rizzo Motorsports Images
Vehicle technologies tested and proven in the auto racing industry are making the cars we drive greener and safer. Racecars have used cellulosic ethanol — made from non-edible plants, algae, and other biomass material — since 2008. The alternative fuel was produced on a commercial scale for the first time in our nation's history in July.
The next generation of high performance, eco-friendly racecar innovation was on display last weekend at a Green Racing event as part of the American Le Mans Series at the Circuit of the Americas in Austin, Texas. Green Racing fosters new technology development that reduces greenhouse gases and exhaust pollutants, and increases fuel economy.
The ALMS races challenge the world's largest auto manufacturers to rapidly innovate in order to compete. In the end though, Klaus Graf and Luca Luhr of team Muscle Milk dominated the competition in their fuel-efficient Honda ARX-03c that runs on E10, which contains 10 percent ethanol. The team never lost the lead after the first lap. 
In an interview with Green Racing, Graf said, "If you want to succeed in this series, you have to be able to not only go fast but be efficient with your resources and energy consumption. I think that's really been key for us."
But a much bigger prize is still in play. At the end of the season, the Le Mans series will award the Green Racing Cup Championship Award to the Le Mans Prototype and Grand Touring class race teams with the fewest Green Racing points at the end of the season. All teams start the season with 250 points. At the end of each race (including the Circuit of the Americas' event), teams with the fastest speeds, lowest energy use, lowest emissions, and best efficiency win the Michelin Green X Challenge award.  The series then deducts the teams' points from their total. When the season is over, the team with the fewest points wins the Green Racing Cup. The scoring is based on the Green Racing protocols, which the Energy Department, Environmental Protection Agency, and SAE International developed in 2006. 
The Circuit of the Americas event came shortly after the Energy Department announced a new partnership with the National Association of Stock Car Auto Racing (NASCAR) to support new, clean energy technologies that benefit race teams and fans. These include electric vehicle charging stations, solid-oxide fuel cells, advanced biofuels and emerging natural gas technologies for NASCAR long-haul trucks. The partnership underscores the Department's commitment to advancing vehicle technologies that make our nation more environmentally sustainable for future generations.
Check out the Vehicle Technologies Office website to learn more about what the Energy Department is doing to develop more energy efficient and environmentally friendly highway transportation technologies. Interested in how electric vehicles work? Watch our Energy 101 video.