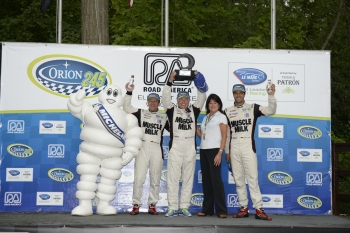 The Honda and Muscle Milk Team, pictured here, are the 2013 Michelin Green X Challenge Prototype champions. | Photo courtesy of Michelin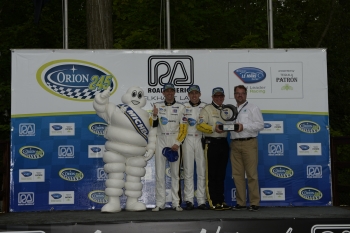 Chevrolet and Corvette Racing, pictured here at the Petit Le Mans race in Georgia, clinched the 2013 Michelin Green X Challenge Grand Touring Championship award. | Photo courtesy of Michelin
With a wave of the checkered flag, the fourth Green Racing season came to an end in late October at the Petit Le Mans – an American Le Mans Series (ALMS) race at Road Atlanta in Braselton, Georgia. The Green Racing protocols – published by the Energy Department, Environmental Protection Agency and SAE International – emphasize cleaner fuels, efficient vehicle technologies, and speed in the races that adopt them, such as the Petit Le Mans. As this year's racing series ends, next year's will mark a new milestone in eco-friendly automotive sports by including teams from both the ALMS and NASCAR's GRAND-AM Road Racing.
Teams with the fastest speeds, lowest energy use, fewest emissions, and best efficiency throughout the season win the Green Racing Cup.  This season, Honda and Muscle Milk Pickett Racing were crowned Prototype champions after winning eight consecutive races. Chevrolet and Corvette Racing were named Grand Touring champions for the tenth time. Prototype cars are built exclusively for racing while cars in the grand touring category have similar designs to vehicles in the marketplace.
The end of another successful season caps a series of technical achievements for the Green Racing initiative. By providing incentives for Grand Touring class teams to transition to E85 (fuel comprised of up to 85% ethanol), Green Racing helped ALMS cars reduce season-long petroleum use by nearly 40%. This switch also helped reduce the series' overall greenhouse gas emissions by more than 20%.
By advancing clean vehicle technology, Green Racing and the ALMS are reducing oil use and carbon emissions, proving that race cars can be energy efficient without sacrificing performance on the track.
For more on Green Racing, including photos and a list of past winners, visit greenracingcup.org.
Also, check out the Vehicle Technologies Office website to learn more about what the Energy Department is doing to develop more energy efficient and environmentally friendly highway transportation technologies.