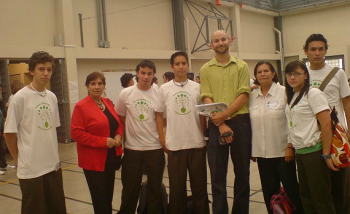 Josh Sneideman is an Albert Einstein Distinguished Educator Fellow and helps lead the Energy Department's Energy Literacy efforts. (Photo courtesy of Eco Organization)
Josh Sneideman is EERE's Office of Strategic Program's Albert Einstein Distinguished Educator Fellow. He is dedicated to leading Energy Literacy efforts for EERE's Workforce Development and Education Team.  Below, he shares his ideas about DOE's Energy Literacy Framework and energy education.
Josh, what led you to apply to become an Einstein Fellow?
Environmental education has always been a passion of mine.  When I graduated from college, I spent a few years working as a hydro geologist, working to clean up underground oil spills, but in my late 20s, I realized that I wanted to be in the classroom, and I've been a middle school science teacher since. My first teaching job was in Boston, but after that I went abroad to teach in Trinidad and Tobago, and Costa Rica, where I received a grant from the State Department to found the Eco Organization, which promotes environmental education in Latin America. I saw the Einstein fellowship as an opportunity to help build the field of energy education from the ground up.
EERE has been charged with spearheading the Administration's Energy Literacy Initiative, how do you define energy literacy for those who may be unaware?
Literacy in its most basic form is the ability to read and write. So energy literacy is the ability to read and understand energy - both where it comes from and how it is used.  In order to build an energy literate public (K-Grey), the Energy Literacy Essential Principles and Fundamental Concepts Framework guides educators on how to incorporate energy principles and concepts into their own lesson plans and activities, and for US Citizens, how to make better decisions about their energy use.  By the way, creating the Energy Literacy Framework was a key deliverable of the 2011 DOE Strategic Plan. Its development was led by a former Einstein Fellow and approved by the 13 federal agencies of the U.S. Global Change Research Program.
What's one of the greatest challenges for energy education?
One huge challenge is getting energy taught outside of science classrooms.  Energy is very much an interdisciplinary subject, and if we are able to get teachers in history and math classrooms to incorporate energy into their curriculum, we can not only show a well-rounded picture of what energy is and does, but appeal to a wider variety of learners than the science classroom alone can engage. For example, energy has been a fundamental concept throughout history. It would help students understand our current energy system if they could contextualize it against how groups like the Romans or Native Americans used energy. Furthermore, I want to expand the framework to those who are currently underrepresented in science and technology fields. I see the shifting energy field as providing incredible future job opportunities, and we can help these people receive the training and education they need to access this growing field.    
What are the long- and short-term goals of the Energy Literacy efforts?
In the long term, I want to create an American public that is completely aware of what energy is, where it comes from, and how it's used.  In the short term we need to focus on expanding the use of the framework beyond the science classroom by collaborating with nonprofits, non-governmental organizations, and other federal agencies, and by publishing the framework in Spanish.
What is one group that should be using the framework, but is not?
Movie producers! Pop culture drives so much of what kids are interested in. If producers began to incorporate ideas from the framework into their work, schoolchildren would be especially motivated to learn about it, and since many movies deal with energy issues, they could use our ideas to reach a broad portion of the population, who might not know a lot about energy.
How can energy literacy be used to engage underrepresented groups?
Engaging women and underrepresented minorities is going to be one of my largest focuses during my time at EERE.  I have been contacting and working with groups that help those who are typically seen as disadvantaged enter science and technology workplaces and receive the training they need. For example, I'm attending a STEM Career Showcase for Students with Disabilities in October. By reaching out to these groups, we can help them understand that energy is a vast and growing field with numerous jobs and other opportunities.  We need to broaden our voice so it appeals to both a larger population, and specific demographics - a process that we have already started by beginning to translate our framework into Spanish.  
Interested in energy education? Check out our Education Website  for activities, lesson plans, videos and games. Or read about how the University of Maryland employed the energy principles and Energy 101 Course Framework.
Josh Sneideman is one of DOE's Albert Einstein Distinguished Educator Fellows.  For more information on other DOE fellowships visit our Fellowships page.