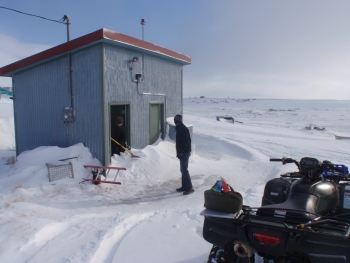 Energy Department financial support for Alaska is helping remote facilities like the Toksook Bay Well House to identify critical savings opportunities with energy monitoring software. Toksook Bay has a population of about 600.
The Energy Department plays an important role in helping states develop high-impact, innovative solutions that can achieve economic benefits.
This aid is especially critical in Alaska, where remote Native villages face unique energy challenges. The harsh climate necessitates major energy investments. Also, the enormity of Alaska complicates fuel and electricity distribution, resulting in some of the highest energy prices in the country.
In response to these challenges, the Energy Department continues to assist Alaska in developing clean energy and energy efficiency programs that will reduce energy costs and greenhouse gas emissions.
The Energy Department's primary delivery system for state aid is the State Energy Program (SEP). SEP funding aids Alaska's interest in developing and testing a building energy monitoring software that will increase a building's efficiency and performance. The software is already being widely applied in Alaskan Native villages, cutting energy costs and providing other vital services.
Such efforts began in 2013, when the Alaska Housing Finance Corporation (AHFC), a sub-recipient of SEP funds, began researching and developing a smart energy management system called BMON. This web-based software application tracking tracks real-time energy use in a building, including occupancy and temperature, from any remote location.
For example, the Alaska Native Tribal Health Consortium installed the system to manage 19 rural wastewater treatment facilities. BMON allows the consortium to alert residents of a remote facility to imminent problems like excessive energy use or freezing water pipes. Frozen pipes threaten public health and cost hundreds of thousands of dollars to repair. To date, the technology has prevented two freeze-ups in the community of Selawik.
The software has helped the Alaska Native Tribal Health Consortium improve the efficiency of its water and sewer systems, saving thousands in energy costs. The software also saves utility support organizations thousands of dollars in avoided flights and labor by reducing the need for on-the-ground technical assistance.
Besides monitoring energy performance, the software can track effects of climate change at facilities. The consortium uses it to monitor the ground temperatures at its Kasigluk sewage life station chiller, where permafrost melting is a problem.
"The remote monitoring installations have more than paid for themselves through avoided maintenance and energy costs," said Gavin Dixon, Rural Energy Project Manager for the Alaska Native Tribal Health Consortium.
After being selected as a recipient of a 2015 SEP Competitive Award, the consortium plans to support more small-scale energy projects in rural Alaska this year.