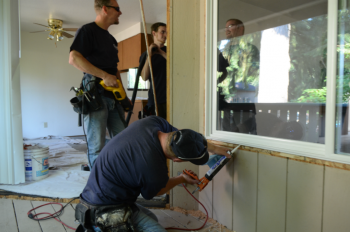 A worker caulks the exterior of a home window. Advanced window framing techniques can help homeowners save energy and money. | Photo courtesy of Weatherization Assistance Program Technical Center
Home energy use accounts for 22% of total U.S. energy consumption, according to the Energy Information Administration. This can be reduced through better integrated building design, construction and remodeling practices. The Building America program guides professionals in reducing potential risks of installing new, innovative building technologies, and ensuring success when constructing high-performing, energy-efficient homes.
Building America's teams of building science experts have developed key technical reports (130 in fiscal year 2013 alone) that describe home energy innovations and provide steps for successfully implementing energy efficient solutions. Building America identified ten of these energy saving strategies as "top innovations" to transform the residential building industry. Three are highlighted.
The Energy Department's Window Replacement, Rehabilitation, & Repair Guide outlines affordable window options for building industry professionals. The guide details how to properly install and repair windows to improve energy efficiency and comfort. Options include frame and sash refurbishment, window inserts, total replacement – all can improve energy efficiency while maintaining the integrity of a home's original design.  
Installing HVAC ducts in unconditioned attics causes large energy loss ranging from 10% - 45%, significantly increasing electricity bills. Building America researchers developed and tested a technique for insulating ducts with spray foam and burying them in attic insulation. The team's research shows ducts installed this way in a vented attic can match the efficiency performance of ducts in conditioned spaces.
Building America researchers developed several simple, cost-effective solutions for advanced framing that reduces thermal bridging and can be adopted by builders. These techniques include off-setting interior wall framing from exterior wall framing and installing oversized oriented strand board wall sheathing.
View a full list of Building America's top innovations or go to buildingamerica.gov to access our extensive collection of technical resources, tools and other solutions that improve energy performance and quality of new and existing homes.