Introduction
A combined heat and power (CHP) system can be a financially attractive energy option for many industrial and commercial facilities. This is particularly the case in areas of the country with high electricity rates. However, regions with air quality concerns often have strict limits on criteria pollutants, such as nitrogen oxide (NOx), carbon monoxide (CO), and volatile organic compounds (VOCs). In order to meet these emissions standards, additional control systems often need to be incorporated into CHP systems that are installed. Such systems, however, make CHP installations more expensive and often decrease system efficiency, making installation of a CHP system less attractive financially. The CHP system developed by Gas Technology Institute (GTI) and its project partners aims to address this challenge by incorporating a supplemental Ultra-Low-NOx(ULN) burner into a 65 kW microturbine and a heat recovery boiler. The ULN burner is expected to help the CHP system meet stringent emissions criteria and improve overall system efficiency in acost-effective manner.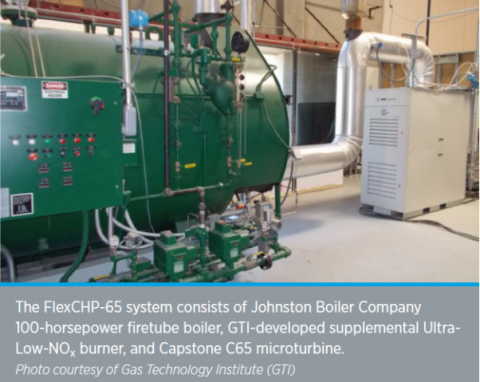 Project Description
The project team developed a Flexible Combined Heat and Power (FlexCHP) system to deliver power and steam keeping criteria pollutant emissions below the 2007 Fossil Fuel Emissions Standard targets for microturbines. The FlexCHP-65 system incorporates Gas Technology Institute's (GTI) supplemental ULN burner technology into a Capstone C65 (65 kW) microturbine and a 100-horsepower heat recovery boiler by Johnston Boiler Company.
Pathways
GTI has already tested its ULN burner design in a laboratory. For this project, GTI developed a commercial-scale prototype of the new supplemental burner, which was integrated into a CHP system that consists of Capstone Turbine Corporation's C65 microturbine and Johnston Boiler Company's 100-horsepower heat recovery boiler. Cannon Boiler Works (CBW) and Integrated CHP Systems Corp. (ICHPS) were responsible for the system integration.
The integrated commercial prototype was first tested at GTI's laboratory to verify that it meets the emissions and performance requirements. Currently, a host site demonstration is being conducted at Inland Empire Foods, a food processing facility in Riverside, California.
Commercialization
Based on a market study conducted by GTI, the new technology will have greatest potential in the replacement boiler market in regions with high electricity costs and stringent emissions standards, such as California and the Northeastern states. Once the host site demonstration has been completed, the new ULN burner design will be incorporated into project partners' product lineups. CBW has a strong presence in the boiler market, and Capstone Turbine Corporation is an established vendor in the power generation market. These two companies will be the primary conduits for the technology to enter the market. In the first three years of commercialization, GTI, CBW, and ICHPS will actively assist the market channel partners in identifying sales opportunities. In addition, project partners will conduct a market outreach program through appropriate industry associations. Full market potential for the new technology is estimated to be 60 units per year.