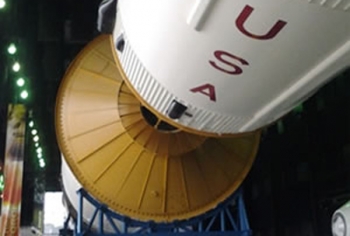 Under the Saturn IV Rocket Photo credit: Kelly Visconti
On the Road
with Kelly Visconti
I went to Space Camp! In January I went to the Davidson Space and Rocket Center (the home of Space Camp) in Huntsville Alabama for a workshop sponsored by the Advanced Manufacturing National Program Office (AMNPO). Over 350 people from private companies, universities, and state and federal government agencies came to learn more about and discuss the hot-off- the-press "Preliminary Design of the National Network for Manufacturing Innovation," a report issued by the National Science and Technology Council (NSTC).
After the NSTC report and eight months of "crowd sourcing" workshops, this event represented a turning point from gathering input, to presenting and discussing an output: the initial design concept to create a network of regional public-private centers of manufacturing excellence called Institutes for Manufacturing Innovation or simply Institutes.
The one day meeting started with a line-up of distinguished speakers. The Mayor of Huntsville, Tommy Battle kicked off the meeting telling us about the strong connection between the Huntsville area and manufacturing. That message was reinforced by Robert A. Altenkirch, President of the University of Huntsville Alabama. Other keynote speakers included Major General William Crosby of the United States Army and Brett B. Lambert, Deputy Assistant Secretary of Defense who both expressed the need for a strong manufacturing base to support our military and the economic future of our country. Representatives from several Federal agencies who are leading and coordinating the effort to develop the design (and would be charged with building this network of Institutes) laid out the key points from the report in four topic areas: Technologies with Broad Impact, Institute Structure and Governance, Strategies for Sustainable Institute Operations and Education and Workforce Development.
At lunch, literally under the Saturn IV rocket, we had the chance to hear a great panel of speakers share their insight gained from working in regional technology "clusters." After enjoying some good southern fare and dialogue, everyone split up into groups and we began the afternoon discussion cafés. Each café was focused on one the four areas of the Design summarized in the morning session. A representative from one of the Federal agencies (DOD, NASA, DOC, DOE, and DoEd) supporting the initiative (people like me!) and a facilitator led each session. We asked a few questions to get things going and scribes captured the resulting discussion.
One comment that stuck with me came from a representative from a major industrial company who pointed out there was great value in participating in one Institute, and emphasized that the network could create even greater value for participants. "Leveraging" was a key word throughout the day, whether it was Institutes leveraging best practices, funding, or existing educational programs. The ability to connect and make best use of resources was a common thread through several discussions. It was a great day and venue for the launch of the report. We all are one step closer to creating a network of Institutes that will build the proving grounds where American innovations flourish and continue to advance U.S. manufacturing.
Thanks for reading and if you want to learn more about this initiative and other great Advanced Manufacturing activities check out the AMO website and the AMNPO website.
Thanks!
Kelly
Kelly Visconti is a new member of the Advanced Manufacturing Office. She is exploring emerging technology areas in advanced manufacturing and ways to meet our energy goals by leveraging resources and creating partnerships. She holds a BS in Chemical Engineering from The Johns Hopkins University, an MS in Civil and Environmental Engineering from Rutgers, and is a licensed Professional Engineer. She's a native of the great Garden State and can be found studying Muay Thai (Thai Boxing) after work hours.