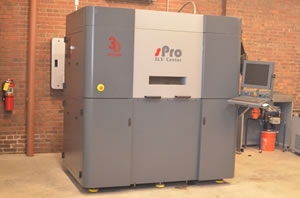 A 3D printer at NAMII's facility in Youngstown, Ohio. Photo credit: National Additive Manufacturing Innovation Institute.
Additive manufacturing is making a big impression and the National Additive Manufacturing Innovation Institute (NAMII) is right out front, creating the potential to accelerate the use of this innovation across many industries. In January 2013, a joint project of The Brookings Metropolitan Policy Program and The Rockefeller Foundation put NAMII on the second annual "Top 10 State and Metropolitan Innovations to Watch" list. This list honors NAMII as one of the ten most notable actions undertaken by states and metropolitan areas in 2012 that show the most potential for creating jobs, growing regional economies, and boosting global competitiveness in 2013.
NAMII, in the "tech belt" region of Ohio, Pennsylvania, and West Virginia, is a remarkable coalition of 40 companies, 9 research universities, 5 community colleges, and 11 non-profit institutions devoted to retooling existing manufacturing-related research capabilities and meeting the challenge of scaling additive manufacturing (commonly known as 3D printing).
"It is a tremendous honor to learn that NAMII has been selected by such prestigious organizations as The Brookings Institution and The Rockefeller Foundation for inclusion on their second annual top ten list of the most innovative economic development initiatives in our country," said Ralph Resnick, Founding Director for NAMII, in a statement on NAMII's website. "Given that NAMII was only founded in August of last year, it is rewarding to know that NAMII's efforts to promote entrepreneurialism within additive manufacturing and to accelerate those technologies to the mainstream U.S. manufacturing sector have warranted recognition by the Brookings/Rockefeller Project. We fully intend to execute our mission and meet the expectations of this acknowledgement."
Owen Washburn at the Brookings Foundation said "The Youngstown Ohio NAMII was an obvious choice for two reasons. First, it is on the vanguard of an economic movement—as we see new forms of production like 3D printing driving a manufacturing renaissance in the United States. And second, it is exemplary of the type of regional vision and public, private, civic and university collaboration necessary to create partnerships and attract investment from state and federal governments, and other investors."
The Brookings-Rockefeller Project on State and Metropolitan Innovation is a five year study that is looking across the country for smart, pragmatic solutions to national economic challenges such as meeting a national goal of doubling exports, bolstering innovative industries, cracking the code on low carbon, growing a skilled workforce and increasing opportunity, and strengthening collaborative governance. The Project will recognize policy and practice innovations that show that American problem solving does not rely exclusively on the federal government, but, as a nation, devolves ample powers and responsibilities to states and metropolitan areas that, in turn, smartly share governing with leaders in the corporate, civic, university and environmental sectors
Read more about NAMII's selection in the Top 10 Innovations to Watch list.
The Brookings-Rockefeller Project on State and Metropolitan Innovation presents fiscally-responsible state policies and practical metropolitan-led solutions that leaders can use to move toward the next economy.
Owen Washburn is a Senior Policy Analyst & Communications Advisor for The Brookings Metropolitan Policy Program and co-authored the Top 10 State and Metropolitan Innovations to Watch list.
Ralph Resnick is the Founding Director of the NAMII and currently serves as the President and Executive Director of the National Center for Defense Manufacturing and Machining (NCDMM).
Cassie Mills is a Communications Associate with BCS, Inc., supporting the Advanced Manufacturing Office in the Energy Department's Office of Energy Efficiency and Renewable Energy. She has a B.A. in English Literature from Louisiana State University and a M.A. in English and Professional Editing from Indiana University–Purdue University Indianapolis. She's a native of Baton Rouge, Louisiana, and on the weekends, you can often find her whipping up a batch of jambalaya and cheering on the LSU tigers.