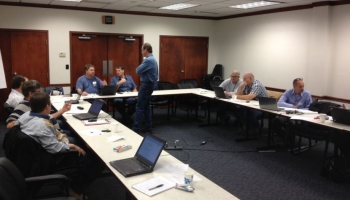 Participants discuss facility data and their steam models. Image courtesy Land O' Lakes.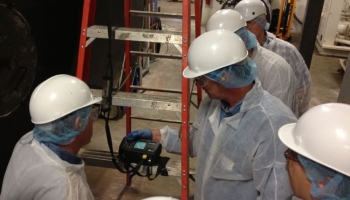 Boiler stack data is measured and evaluated. Image courtesy Land O' Lakes.
Twelve participants from 6 different facilities learned and practiced energy efficiency assessment skills during the recent in-plant training at a Land O'Lakes dairy plant in Carlisle, Pennsylvania. The team of participants found an estimated total savings of $50,000, representing about 1.5 - 2 percent of the facility's annual gas purchases. Most of the identified projects would require little or no capital investment.
Qualified Steam Specialist and energy assessment expert, Tom Tucker, performed a steam and process heating assessment and led the training, which covered the steam system and one key process heating system at the facility.
During the two-and-a-half-day event, participants learned how to evaluate steam systems using the DOE Steam System Modeling tool, collect and evaluate critical steam data, and identify improvement opportunities. 
The host plant also gained valuable information to help strengthen its energy management system as it prepares for certification under Superior Energy Performance™.
The event was held November 5-7 with a pre-training webinar on October 16.
Companies interested in joining the program are encouraged to contact us at betterplants@ee.doe.gov.