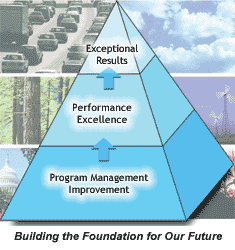 The Office of Energy Efficiency and Renewable Energy (EERE) seeks to manage its programs effectively and efficiently through disciplined systems and processes, highly motivated and capable professionals, useful tools and job aids, and a management approach that emphasizes results. To achieve excellence, each of these elements must be continuously improved or reengineered. The Program Management Initiative was launched in 2001 to help EERE more effectively accomplish its mission "To lead the nation in the research, development, and deployment of advanced energy efficiency and clean power technologies and practices, providing Americans with a stronger economy, healthier environment, and more secure future."
Some of the following documents are available as Adobe Acrobat PDFs.
The EERE Program Management Initiative
EERE is aggressively pursuing these improvements through a coordinated set of actions known as the EERE Program Management Initiative . Another way of saying this is that EERE is in the program management business, a business that is very complex and challenging, and that EERE is committed to making the improvements in program management necessary to become best in its class. EERE is aiming high—toward achieving an exceptional level of mission accomplishment and stakeholder satisfaction.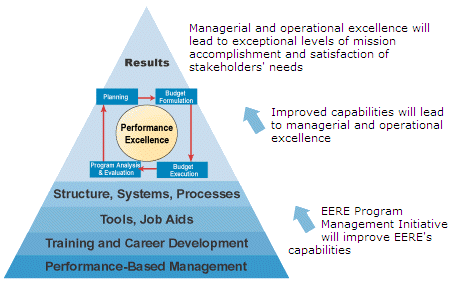 Goal - Achieve and continuously demonstrate EERE managerial and operational excellence.
Vision - EERE will become the model in government for program management and will be sought out as the benchmark by other organizations interested in improving their program management performance.
The Mandate
The EERE Program Management Initiative is being driven by a number of external and internal requirements and forces, principally stakeholder expectations, the President's Management Agenda, the DOE and EERE strategic plans, the findings and recommendations of recent reviews of EERE management by the National Academy of Public Administration, and the Government Performance and Results Act.
Publications