Small business research has come a long way since 1982 when the Small Business Innovation Research and Small Business Technology Transfer Research Program (SBIR/STTR) first became law. With new approaches to research topics and new more flexible processes, Office of Energy Efficiency and Renewable Energy's (EERE's) SBIR/STTR program is leading the way. Since 2011, EERE has participated in a number of new solicitations involving dozens of new topics and subtopics that have resulted in awards to hundreds of new small business partners on projects well-aligned with our clean energy goals.
Follow this page for EERE SBIR/STTR news, including funding opportunities and outreach activities. For more information about SBIR/STTR, visit the Office of Science SC-SBIR website and the government-wide SBA-SBIR website. For tips on working with the U.S. Department of Energy (DOE), visit the DOE and small businesses page.
News
FY2014 Phase I, Second Release: Topics Issued, Webinar Upcoming
The Office of Energy Efficiency and Renewable Energy within the Energy Department has released topics for the second Phase I solicitation of FY 2014. The seven EERE-funded topics and 23 subtopics are aimed at solutions for energy-saving homes, buildings, and manufacturing; sustainable transportation; and renewable electricity generation. View the topics. A webinar was held Nov 4, 2013 to provide interested parties with updates and an opportunity to ask questions about the topics. The Funding Opportunity Announcement for Phase 1 Release 2 is to be issued November 25, 2013, Letters of Intent (mandatory for submitting a proposal, but non-binding) are due to DOE on December 16, 2013—registration in DOE's PAMS system will be required. Full applications are due through Grants.gov (SAMS registration required) by February 4, 2014.
Outreach for Increasing SBIR/STTR Applications from Women and Minorities
EERE's SBIR team is reaching out in a new initiative to underserved populations, particularly women- and minority-owned small business concerns, to increase their participation in EERE SBIR/STTR programs. Women and socially and economically disadvantaged minorities are the focus of this effort because they are underrepresented in DOE SBIR/STTR applications and awards (see the National Academy of Science's DOE SBIR study). Engaging a representative number of women and underserved minorities in the SBIR process is a mission issue—an economic issue—and critically needed to bring new ideas and perspectives to the innovation table. Minority- and woman-owned small businesses that seek to move their cutting-edge technologies to market are strongly encouraged to apply to the program and sign up to receive EERE SBIR applicant resources and updates.
EERE's FY 2013 Broad-Based Phase II Awards Announced
The Energy Department's Office of Energy Efficiency and Renewable Energy announced the selection of seven SBIR/STTR grants totaling nearly $8 million to small businesses in eight states. These awards will help small businesses that have already received Phase I grants for their ideas for energy efficiency, renewable power, and sustainable transportation to take their innovative concepts and develop them into prototype technologies. Six awards are for SBIR projects and one is for an STTR project. The research and development efforts aim to reduce costs and improve energy use and production through projects such as Low-Cost, High-Energy Si/Graphene Anodes for lithium ion batteries; Nanocrystal Additives for Advanced Lubricants; and Advanced Ceramic Materials and Packaging Technologies for Realizing Sensors for Concentrating Solar Power Systems.
View the list of awards on the Awards page on the SBIR/STTR website.
Clean Energy Company Wins Business Plan Competition
SiNode Systems, a battery materials venture for the next generation of lithium-ion batteries, was crowned the "world champion startup" as the first place winner in the 2013 Rice Business Plan Competition. SiNode was the recipient of an EERE SBIR Phase I grant under the FY 2012 broad topic solicitation. The Rice Business Plan Competition brought 42 top university teams from across the globe to pitch their new technology businesses to a record number of over 300 venture capital and investor judges. As the first place winner, SiNode is to receive more than $900,000.
SiNode's anodes offer dramatic energy capacity increases as well as rapid charge/discharge rates, while maintaining cycling stability and reducing the electricity usage and toxins associated with current manufacturing processes for advanced battery materials. Visit Energy.gov for more and the option to "like" this story.
EERE and Related SBIR/STTR Solicitations
Broad-based
Phase I (Release 3)
02/20/13
Full list of awards announced
FY2013
Phase I (Release 1(SC))*
01/09/13
Awards announced
Phase I (Release 2)
04/30/13
Awards announced
Phase II (Release 1)
12/11/12
Awards announced
Phase II (Release 2)
04/17/13
Awards announced
Broad-based
Phase II (Release 3.1)
11/8/13
Awards announced
Phase II (Release 3.2)
12/10/13
Applications due. See FOA.
Late February 2014
Awards announced
FY2014
Phase I (Release 1(SC))*
7/15/2013
Topics issued
Early January 2014
Awards announced
Phase I (Release 2)
11/04/13
Topics for Phase I Round 2 Webinar
11/25/13
FOA issued
12/03/13
FOA Webinar
12/9/13
EERE Cleantech SBIR Webinar
12/16/13
Letters of Intent due
02/04/14
Applications due
Phase II (Release 1)
10/21/2013
FOA issued
Webinar held
12/10/2013
Applications due
Phase II (Release 2)
2/10/2014
FOA issued
4/17/2014
Applications due
*Prior to 2012, there was one SBIR/STTR release per year for all DOE programs. Starting in 2012, Phase I Release 1 solicitations comprise only DOE's Office of Science (SC) funded topics, but are included here because some are managed by EERE and/or are be of interest to EERE stakeholders.
Past Events:
Case Studies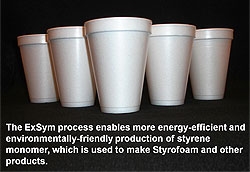 EERE has tracked commercialized SBIR-funded technologies by estimating realized and potential energy, environmental, and economic benefits of selected projects.
Featured Case Study: Exelus Inc., starting in 2005 with an EERE SBIR grant, developed the Exelus Styrene Monomer (ExSyM) process, which potentially requires as much as 50% less capital investment, uses 40% less energy, and produces 40% fewer greenhouse gas emissions than conventional styrene monomer production methods. Many commonly-used products, such as Styrofoam cups, are made from styrene monomer.
Download the Exelus case study.
Other EERE SBIR case studies: